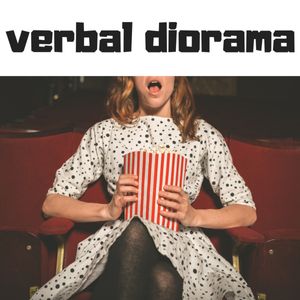 Verbal Diorama
Verbal Diorama

1 Creator
5.0
(196)

1 Creator
Are you interested in how movies are made? Do you wonder how a film went from conception to completion? If so Verbal Diorama, hosted by Em, is the podcast for you! Movies are tough to make, and Verbal Diorama is here to celebrate the coming together of teams of extraordinary cast and crew, bringing us movies that inspire us, delight us, make us laugh, make us cry and petrify us. This podcast discovers the stories behind the scenes, and proves how amazing it is that movies actually exist! Welcome to Verbal Diorama. The podcast all about the history and legacy of movies you know, and movies you don't! Subscribe on your favourite podcast app, and enjoy new episodes every week.



44 Listeners
5.0
(196)
6 Comments
Top 10 Verbal Diorama Episodes
Best episodes ranked by Goodpods Users most listened
Show more
How many episodes does Verbal Diorama have?
Verbal Diorama currently has 211 episodes available.
What topics does Verbal Diorama cover?
The podcast is about Film History, Podcasts, Tv & Film and Film Reviews.
What is the most popular episode on Verbal Diorama?

The episode title 'The Terminator' is the most popular.

What is the average episode length on Verbal Diorama?

The average episode length on Verbal Diorama is 53 minutes.

How often are episodes of Verbal Diorama released?

Episodes of Verbal Diorama are typically released every 7 days.

When was the first episode of Verbal Diorama?

The first episode of Verbal Diorama was released on Feb 16, 2019.

Show more FAQ
Comments
196 Ratings
Feb 22
Like
Mar 15
A great series about movies you know and movies you don't, also that Intro is metal as hell and really slaps. Em is a wonderful host who breaks down a synopsis of a movie and what exactly went into making it exist. Her passion for the content is amazing. I don't know who was cutting onions near me during the Toy Story 3 episode was…but stop it.
Like
May 3
Like
May 26
If you find yourself asking questions about a film while and after watching, Verbal Diorama is a perfect companion to your watching experiences. Em is meticulous in her research and generous with her personality in a show that uniquely her own niche! No one does it better! Strong recommend x
Like
Gerald Morris
@twopeasonapodcast
Jun 30
Like
Jul 13
Awesome show with an insightful host!
Like