Back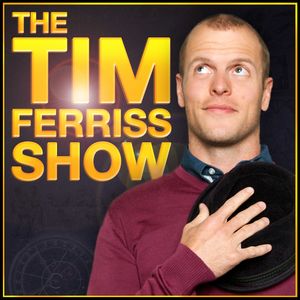 #568: Cal Newport — The Eternal Pursuit of Craftsmanship, the Deep Life, Slow Productivity, and a 30-Day Digital Minimalism Challenge
The Tim Ferriss Show
5.0
(2)
Brought to you by Magic Spoon delicious low-carb cereal, Eight Sleep's Pod Pro Cover sleeping solution for dynamic cooling and heating, and Athletic Greens all-in-one nutritional supplement.
Cal Newport (calnewport.com) is an associate professor of computer science at Georgetown University who previously earned his PhD from MIT. His scholarship focuses on the theory of distributed systems, while his general-audience writing explores intersections of culture and technology.
Cal is the author of seven books, including, most recently, Deep Work, Digital Minimalism, and A World Without Email. He is also a contributing writer for The New Yorker and the host of the Deep Questions podcast.
Please enjoy!
This episode is brought to you by Magic Spoon cereal! Magic Spoon is a low-carb, high-protein, and zero sugar cereal that tastes just like your favorite sugary cereal. Each serving has 13–14g of protein, 4g of net carbs, and 0g of sugar. It's also gluten free, grain free, soy free, and keto friendly. And it's delicious! It comes in your favorite, traditional cereal flavors like Cocoa, Frosted, Peanut Butter, and Blueberry.
Magic Spoon cereal has received a lot of attention since their launch. Time magazine included it in their list of Best Inventions of 2019, and Forbes called it "the future of cereal." My listeners—that's you—get $5 off and a 100% happiness guarantee when you visit MagicSpoon.com/Tim and use code TIM. And some great news for Canadian listeners: Magic Spoon now also ships to Canada!
*
This episode is also brought to you by Eight Sleep! Eight Sleep's Pod Pro Cover is the easiest and fastest way to sleep at the perfect temperature. It pairs dynamic cooling and heating with biometric tracking to offer the most advanced (and user-friendly) solution on the market. Simply add the Pod Pro Cover to your current mattress and start sleeping as cool as 55°F or as hot as 110°F. It also splits your bed in half, so your partner can choose a totally different temperature.
And now, my dear listeners—that's you—can get $250 off the Pod Pro Cover. Simply go to EightSleep.com/Tim or use code TIM at checkout.
*
This episode is also brought to you by Athletic Greens. I get asked all the time, "If you could only use one supplement, what would it be?" My answer is usually AG1 by
Episode comments
2 Ratings
eg., What part of this podcast did you like? Ask a question to the host or other listeners...
Mukilan Krishnakumar
@mukilan
Feb 4
This was a very cohesive episode, the way in which Cal articulates and connects his ideas is amazing. In this episode they talk about slow productivity, Dave Barry columns and the way to attain the Deep Life. The episode was filled with nuggets of humour and SCHEDULE SHUTDOWN COMPLETE.
Like
Feb 23
Like
Generate a badge
Get a badge for your website that links back to this
Select type & size