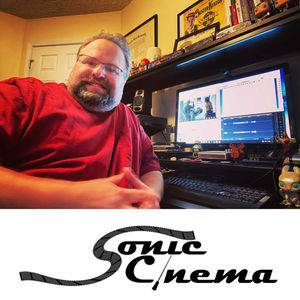 Sonic Cinema Podcast
Brian Skutle
1 Creator
5.0
(3)
1 Creator
Discussing movies and filmmaking with fans, critics and filmmakers. Whether it's modern movies or classics, the biggest hits or some of the worst movies of all-time, host Brian Skutle is passionate about looking at the breadth of movie history. You can read my written reviews and commentary on www.sonic-cinema.com.



6 Listeners
5.0
(3)
Top 10 Sonic Cinema Podcast Episodes
Best episodes ranked by Goodpods Users most listened
Show more
What do you hope listeners gain from listening to your show?
I hope listeners gain not only an appreciation for the films we discuss, but also the different perspectives my guests have to offer.
Which episode should someone start with?
Episode 1 is a good place to start to get to why I started the podcast. In terms of episodes with guests, my first interview with filmmakers Princeton Holt and Brian Ackley, as well as my deep dive into Scorsese's Faith trilogy with Chris Esper.
Which have been your favourite episodes so far?

Our roundtable review of "The Last Jedi," our "Established Classics" series with Timothy J. Cox, my deep dive into Steven Spielberg with Darin Lundberg and Danielle Solzman, our discussion on Scorsese's Faith trilogy, our discussion on "Face/Off" with Jakob Billinski.

Which episode are you most proud of?

If I had to boil down the heart of what the show is to a "reference quality" episode, probably my discussion with my mother, and what she loved, released in 2023.

What is your vision for your show?

The Sonic Cinema Podcast is about making connections through our shared love of movies, and sharing those connections with listeners.

What is your favourite other podcast that isn't yours?

I love the concepts of Binge Movies and The Movie Loot podcasts. Of podcasts I haven't been on, I'd pour one out for '80s All Over.

Tell us a bit about yourself

Brian Skutle's passion is for storytelling, be it through music, film, or creative writing, with the story dictating the medium that best brings it to life. In his music though, it may not be a specific story that inspires him but a feeling. A sense of longing. Of mystery. Of tension. Of serenity. Of sensuality. Of something beyond the humdrum normalcy of life, though sometimes his goal is to just compose for the fun of creating.

Show more Q&A
How many episodes does Sonic Cinema Podcast have?
Sonic Cinema Podcast currently has 212 episodes available.
What topics does Sonic Cinema Podcast cover?
The podcast is about Film History, Music, Podcasts and Tv & Film.
What is the most popular episode on Sonic Cinema Podcast?

The episode title 'Discussing "Adaptation."' is the most popular.

What is the average episode length on Sonic Cinema Podcast?

The average episode length on Sonic Cinema Podcast is 62 minutes.

How often are episodes of Sonic Cinema Podcast released?

Episodes of Sonic Cinema Podcast are typically released every 2 days.

When was the first episode of Sonic Cinema Podcast?

The first episode of Sonic Cinema Podcast was released on Dec 10, 2015.

Show more FAQ
Comments
3 Ratings