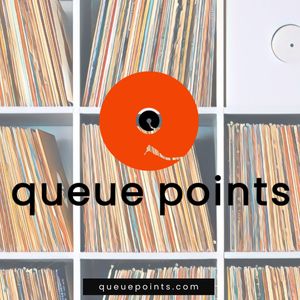 Queue Points Podcast
Queue Points

2 Creators
5.0
(2)

2 Creators
Queue Points is the Ambie Award-nominated music podcast that is dropping the needle on Black Music history and celebrating Black music through meaningful dialogue. The show is hosted by DJ Sir Daniel and Jay Ray. Visit https://queuepoints.com to learn more.



3 Listeners
5.0
(2)
Top 10 Queue Points Podcast Episodes
Best episodes ranked by Goodpods Users most listened
Show more
How many episodes does Queue Points Podcast have?
Queue Points Podcast currently has 193 episodes available.
What topics does Queue Points Podcast cover?
The podcast is about Lgbtq, Music, Music History, Podcasts and Music Commentary.
What is the most popular episode on Queue Points Podcast?

The episode title 'Show #77 - Hip Hop, Social Media & Violence: Is it still all good? (Guest: Mr. Al Pete)' is the most popular.

What is the average episode length on Queue Points Podcast?

The average episode length on Queue Points Podcast is 61 minutes.

How often are episodes of Queue Points Podcast released?

Episodes of Queue Points Podcast are typically released every 5 days, 4 hours.

When was the first episode of Queue Points Podcast?

The first episode of Queue Points Podcast was released on May 13, 2021.

Show more FAQ
Comments
2 Ratings