Back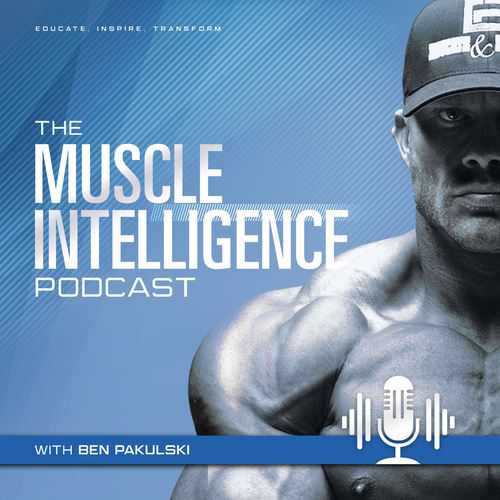 Q&A: Empathy in stressful situations; and answering listener questions about fiber, tight muscles, and core stability
Muscle Intelligence Podcast
Welcome to this live episode of the Muscle Intelligence Podcast, where Ben and Ash talk about standing together at this moment in history and share some amazing diet and fitness wisdom! We kick things off thinking about all that is happening right now with the backfire against racism, talking about the need for empathy, and how we should use this moment as an opportunity to lend each other support. Ben gets into the core tenets of his workout goals next, speaking about his threefold aims in areas of strength and hypertrophy, mobility and stability, and cardio. In answer to a listener question about beating stiffness, Ben talks about meeting the problem from the inside out by breathing, walking, and meditating. Another listener question encourages some recommendations about what fiber sources to consume while avoiding leaky gut foods and Ben gets into his preference for things that beat inflammation like fermented veg, things from the Cruciferae family, and, of course, avocado and berries! Some other great talking points from today's show are the potential imminent eruption of the Yellowstone volcano, the pitfalls of social media, how Ben got to where he is by mastering what he initially sucked at, and a whole lot more!
Today's amazing episode is sponsored by Wild Alaskan Seafood Box. If you're into great food, taking care of yourself, and only putting the best quality food into your amazing vessel, Ben highly suggests visiting wildalaskanseafoodbox.com/ben and using the code 'BEN' to get $25 off your next order!
Timestamps
The pitfalls of social media: facades, hateful comments, & the skew fan/host dynamic. [0:20]
Getting over prejudices and the need for empathy between humans beyond race. [3:30]
The potential impending eruption of the Yellowstone volcano and what it could mean. [10:00]
Ben explains his 3 workout aims: strength/hypertrophy, mobility/stability, and cardio. [11:51]
How Ben builds dynamic movement, a fourth aim, into his existing three already. [17:50]
Ashleigh's current workouts focusing on muscle contraction, boxing, and skipping. [18:33]
People's tendency not to listen to Ben's workout advice, to their detriment! [20:01]
Gut motility; how Ben got so good at certain things: because he used to suck at them. [21:35]
How far Ben has come since being a skinny guy who knew nothing about exercise. [23:13]
Improving mobility through breathing, walking, and meditating. [26:00]
Paying attention to how you walk; the foot's role in knee, hip, back, and shoulder pain. [29:30]
A deeper look at Ben's morning breathing practice and its effects on pain and mobility. [32:41]
Ben's thoughts on healthy fiber sources: fermented veg, Cruciferae, berries, avocado. [34:25]
Quick thoughts on what to eat to manage allergies; avoiding histamine foods. [35:55]
How to maximize hypertrophy and Ben and Ash's morning workout styles. [37:43]
Ben's thoughts on being a life coach and more on his coaching mentorship. [40:02]
Looking at identity, beliefs, and habits for attaining your goals. [42:22]
All the great seafood Ben has been eating from Wild Alaskan Seafood Box! [43:07]
Episode comments
1 Rating
eg., What part of this podcast did you like? Ask a question to the host or other listeners...
Generate a badge
Get a badge for your website that links back to this
Select type & size