Back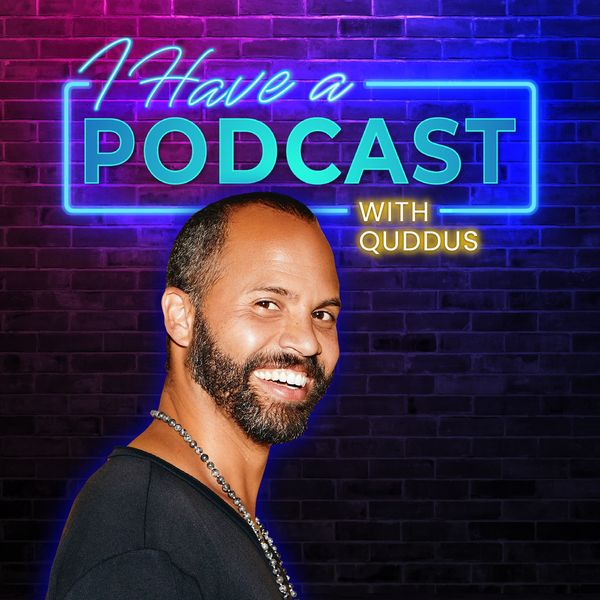 5.0
(7)
Imposter syndrome holding you back? Do you get anxious to hit the record button? Is your perfectionism messing with your flow?
MTV Host turned Media Coach, Quddus, is using his gifts to transform anxiety and perfectionism so you can master your media and make a difference.
In this episode of I Have A Podcast Quddus shares what he has learned about the importance of overcoming adversity, the power and pitfalls of advice, and the difference between skewing stories for headlines versus marketing with integrity. We also talk about when to say no, the impact of great storytelling, and the process of uncovering your origin story.
We've laughed, we've cried, we've learned a million lessons along the way and now here we are sharing a few of them... vulnerable moments and all.
Connect with QUDDUS
Instagram: https://www.instagram.com/quddus
Connect with VINNIE POTESTIVO
LinkedIn: linkedin.com/in/vinniepotestivo

I HAVE A PODCAST ihaveapodcast.com
> launch a podcast? vpe.tv/podbean
> amplify a podcast: vpe.tv/quuu
> get on a podcast: vpe.tv/podmatch
LEAVE US A REVIEW: vpe.tv/ratethispodcast
Episode comments
7 Ratings
eg., What part of this podcast did you like? Ask a question to the host or other listeners...
Nick DiBartolomeo
@SirDibs
Oct 5
4 Likes
Vinnie Potestivo
@vinniepotestivo
Oct 6
1 Like
Oct 13
Like
Ken Aka MrGentleman
@KenMrGentleman
Oct 14
Like
Vinnie Potestivo
@vinniepotestivo
Oct 9
MTV VJ Quddus talks about behind the scenes moments that rocked TRL
2 Likes
May 6
Like
Jennifer Bulawan
@geniefaree
Nov 21
Great content; it helps a lot for those who have this kind of syndrome.
Like
Heronorie Claro
@heronorieclaro
Nov 21
Wait! I experience these situations as a song composer
3 Likes
Show more
Generate a badge
Get a badge for your website that links back to this
Select type & size