Back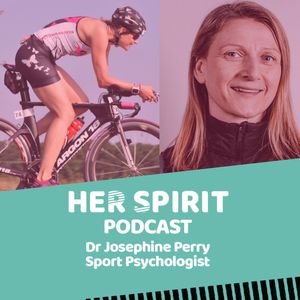 Dr Josie Perry talks to Annie and Louise about he power of the mind, finding your WHY, appreciating the journey and her 5 top tips for Your Best Year Yet.
Her Spirit Podcast
In this twenty sixth episode of the season of the Her Spirit podcast BBC Breakfast presenter Louise Minchin and BBC Triathlon presenter Annie Emmerson talk to sports phycologist Dr Josephine Perry.
Josephine has a background in communications and behaviour change having worked for many years in journalism, marketing, public relations and crisis communications across private corporations and government. She has a MSc in Communications, a MSc in Psychology and a MSc in Sport and Exercise Psychology. She also has a PhD in Political Communications.
She is a Chartered member of the British Psychological Society (BPS) and a member of the Association of Applied Sports Psychologists (AASP). She is registered with the Health Care Professions Council. She writes features for sports magazines and websites and is regularly quoted in the media on how athletes and other performers can use applied sports psychology to enhance their performance.
With a long background in communications she first started learning about performance psychology after competing in Ironman Melbourne in 2013. It was a really windy day with huge waves. For someone used to swimming in a 20 metre London gym pool this was way out of her comfort zone.
She heard the commentator mention the waves. He said "you can't control the conditions. What you can control is the way you choose to react to them." A light bulb moment. She realized it was her choice if she was scared or not and had to choose not to be. It became the fastest Ironman she's raced and set off a full career change, from a conversion course to learn all the basics of Psychology to the MSc in Sports and Exercise Psychology.
She loves the idea that psychology isn't just used to help those with mental health problems get better but can be used by those already doing well to function even better. She is passionate about how it can be used positively to improve performance; whether as a professional athlete, working in business or as an amateur, competing in a sport you love.
Alongside the MSc she also spent some time working at UK Sport to learn how elite sport is run in the UK. This was an invaluable way to understand the pressures on athletes, the support they get and the machinery of the elite UK Olympic and Paralympic systems. Sport at this level is no longer a fun hobby. It is strategic and it is business.
Her approach uses a mix of humanistic and cognitive behavioural psychology and will teach you strategies so you feel more comfortable and in control when entering potentially stressful situations and ensure you are able to per
Hosted by Louise Minchin
Her Spirit is a global community of like-minded women all getting fitter, stronger and healthier together. We believe your mind, body and fuel are intrinsically linked and taking small achievable steps will lead to big changes.
Regardless of your ability, location or stage of life Her Spirit has something for everyone. We are an inclusive bunch of women who believe that being fit and healthy shouldn't be a chore but something you love to do. Our mantra is 'Together We've Got This' and together we support each other to live life to the full and achieve mind, body and fuel goals we never thought possible.
Find out more and come and join our community at https://herspirit.co.uk/Join us on Facebook | Twitter | Instagram or download the Her Spirit app!
Episode comments
1 Rating
eg., What part of this podcast did you like? Ask a question to the host or other listeners...
Generate a badge
Get a badge for your website that links back to this
Select type & size