Back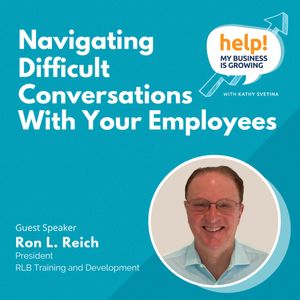 Behind every successful growing business is a vibrant and motivated team that works together to make it happen. And while founders and managers hope that employees get along with each other, this is sadly not always the case.
Employee-related issues are part of any organization. Either conflict arises, they may not meet company expectations, or they are no longer a good fit with the company culture. Eventually, you'll need to have a difficult conversation with your team member to address the problem.
"Difficult conversations" are inevitable in the workplace. As much as you want to ignore the situation, avoiding difficult conversations can lower employee morale and eventually create a toxic work environment. So how do you manage difficult conversations with employees, and how can you make them effective and productive?
In this episode of Help! My Business Is Growing, our guest Ron Reich gives us actionable tips on approaching and navigating these difficult conversations constructively.
He demonstrates how you can transform them from points of conflict into opportunities for personal and professional growth and development - both for you and your team members.
Ron Reich is the President and founder of RLB Training and Development. He is a trainer and coach with almost three decades of experience working with major organizations across various industries, focusing on leadership and management development, corporate training, and organizational development. Ron is also a well-respected and sought-after faculty member of the American Management Association.
In this week's episode, we discuss:
03:45 What is the best approach for a company undergoing changes to minimize the potential "pains" and issues for its owner and employees?
05:35 Is there a difference between crafting a vision and mission statement for a small company vs. a bigger company?
07:38 What steps should you take to develop a vision and mission statement for your business?
12:09 Why is it so challenging for leaders to try and implement the company's vision and mission statement alone?
13:14 What is the difference between a vision and a mission?
16:38 So, you've successfully developed your vision and mission statement. Where do you go from there? How do we use it in everyday situations?
27:20 How do you prepare and structure going about a difficult conversation with team members to ensure it stays positive, productive, and not emotionally draining?
36:55 What is a tangible step founders and managers can take this next week to bring them closer to being a thoughtful and responsive leader who cares and is proactive in how to structure their team?
Resources:
Ron L. Reich, President, RLB Training and Development
LinkedIn:
https://www.linkedin.com/in/ron-reich-7809829
Instagram:
https://www.instagram.com/leadership_rlb/
Kathy Svetina, Fractional CFO:
https://www.newcastlefinance.us/
Blog post | Navigating Difficult Conversations With Your Employees
https://www.newcastlefinance.us/post/navigating-difficult-conversations-with-your-employees
Episode comments
1 Rating
eg., What part of this podcast did you like? Ask a question to the host or other listeners...
Generate a badge
Get a badge for your website that links back to this
Select type & size