Back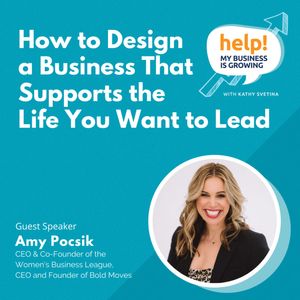 Many entrepreneurs start their businesses to create a better life for themselves, their families, and their community. But the reality is that as a business grows, so does your involvement in it. There are literally hundreds of things to do and decisions to make!
Pretty soon, you're drowning in work; it's consuming all your time, effort, and energy - not to mention resources. And your initial goal of starting a business is to have the freedom to spend quality time doing what you love to do and living your best life gets lost in the chaos.
In this episode of Help! My Business Is Growing, our guest Amy Pocsik shares what you should do - and not do - when building a business that will help you achieve all your dreams and live your best life today.
Amy, a business coach, and CEO, gives valuable insights on the importance of taking the time to rest and giving yourself space to breathe while immersed in the work and how you can make growing your business easy and fun.
In this week's episode, we discuss:
2:20 What is it like to work with businesses where the founders forget the ultimate goal of freedom that made them start the business in the first place?
5:49 How do business owners and leaders identify which areas they need help on that might not be so obvious?
7:32 What is the best advice for entrepreneurs who are not passionate about managing their team?
10:18 What is the process of finding people / potential new team members that really want to work with you?
13:50 What are some of the other things, besides ensuring their professional development and having them do the things they are good at, that founders do or can do to support their team?
14:51 When planning for professional development for your team - should you consider the personal development of employees or only the benefits it can give your business?
16:01 What is the philosophy and meaning behind "Let it be easy and let it be fun" and how can we reflect that in our daily work lives.
21:36 How should entrepreneurs and founders take time to rest?
26:34 What are the steps to take to get back on track when running a business that is chaotic and overwhelming?
32:56 What is the next tangible step that business owners and founders can take to get to that dream business they originally had in mind when they started?
Resources:
Amy Pocsik, Business Coach, CPA, CEO & Co-Founder of the Women's Business League & CEO of Bold Moves:
https://womensbusinessleague.com
LinkedIn:
https://www.linkedin.com/in/amypocsik
Instagram:
https://www.instagram.com/amypocsik/
Kathy Svetina, Fractional CFO:
https://www.newcastlefinance.us/
Blog post | How to Design a Business That Supports the Life You Want to Lead
https://www.newcastlefinance.us/post/how-to-design-a-business-that-supports-the-life-you-want-to-lead
Episode comments
1 Rating
eg., What part of this podcast did you like? Ask a question to the host or other listeners...
Generate a badge
Get a badge for your website that links back to this
Select type & size