Back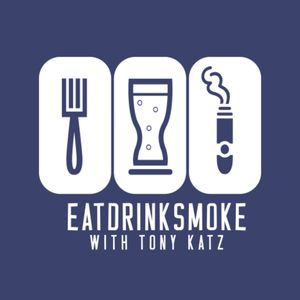 Reviews Of Fat Head's Bumble Berry Honey Blueberry Ale & The Diamond Crown Maximus Churchill No. 2 Cigar, Plus Taco Bell Opens A Business School , The Feds Want More Teen Truck Drivers And Omicron's Impact On The Economy And Eat! Drink! Smoke! - Episode 169
Eat Drink Smoke
5.0
(3)
This week, Tony and Fingers review Fat Head's Bumble Berry Honey Blueberry Ale and the Diamond Crown Maximus Churchill No. 2 cigar.
Tony Katz and Fingers Malloy host Eat! Drink! Smoke! recorded live at Blend Bar Cigar in Indianapolis, IN.
In an effort to recruit more people to become franchisees, Taco Bell has opened a business school. The school is offering a six week training program. Is this a great idea or something to be mocked?
One of the problems that is causing supply chain issues is the shortage of semi-truck drivers. The federal government is launching a program to get more teens into the truck driving profession. Is this action long overdue or is it not something the feds should do?
Omicron continues to infect more Americans and not only has it had a huge impact on the economy, but it has touched Eat! Drink! Smoke! as well. Fingers was in quarantine for the show this week. He's fine, but the guys discuss the latest news on the variant and how Fingers is feeling.
All that and much more on episode 169 of Eat! Drink! Smoke!
Follow Eat! Drink! Smoke!
Twitter: https://twitter.com/GoEatDrinkSmoke | @GoEatDrinkSmoke
Facebook: https://www.facebook.com/eatdrinksmoke | @eatdrinksmoke
IG: https://www.instagram.com/eatdrinksmokepodcast | @EatDrinkSmokePodcast
The Podcast is Free! Click Below!
Episode comments
3 Ratings
eg., What part of this podcast did you like? Ask a question to the host or other listeners...
Jan 29
Like
Jan 31
1 Like
Jan 24
Like
Generate a badge
Get a badge for your website that links back to this
Select type & size