Back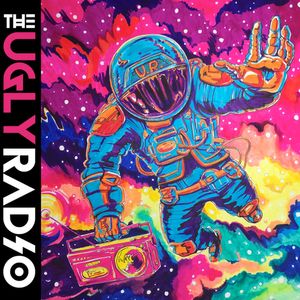 5.0
(1)
We get biblical in this one. Join us as Season Three continues with Butch Alice making their Ugly Radio debut! They've written a deliciously blasphemous industrial video to share with the class, so we brought ensemble favorites, Mandy Rose Nichols, Monica Domena, Lyam White and Jordan-Michael Whidbey to bring it to life. Also making their debut, our newest member of the Ugly Radio family, Jeremiah Paulsen! In his story, "The Pellet Stove Salesman", a soon-to-be-father (Mike Gilson) has to tackle some pretty big hurdles to get home in time for the birth of his first child. Like Eldritch-sized hurdles. Oh and the debuts don't stop there. Spokane outfit, KADABRA, stop by to thrash the frequencies.
Tonight's episode is produced by Andrew Shanks.
Segments Featured Are:
The Book Of Leviticus written by Butch Alice - Performed by Mandy Rose Nichols, Monica Domena, Lyam White, and Jordan-Michael Whidbey. Original music by Bodhi Beats.
The Pellet Stove Salesman written by Jeremiah Paulsen. Performed by Mike Gilson. Original Music by Claudio.
Our music guest is: Kadabra performing "Death" and "Bean King". Their debut album, Ultra, is now available on Apple Music and Spotify. Title song provided by unknowncitizen.
Support the show by becoming a patreon member, visit patreon.com / theuglyradio. And give a listen to other podcasts on the podmoth PodMoth is a tirelessly curated collection of weird, odd, and macabre podcasts.
Butch Alice IG: @butchalice
Jeremiah Paulsen IG: @jeremiahpaulsenproject
Kadabra IG: @kadabra_band
Podmoth IG: @podmoth
Support the show
Episode comments
1 Rating
eg., What part of this podcast did you like? Ask a question to the host or other listeners...
Aug 13
Like
Generate a badge
Get a badge for your website that links back to this
Select type & size