Back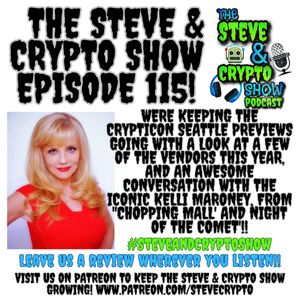 5.0
(5)
We're keeping the Crypticon Seattle hype train going by previewing a few of the spooky vendors this year, and capping it off with an aging conversation with the horror icon Kelli Maroney! We talk her career, horror conventions, and more in this super sized episode!! Even if you're not here in the PNW, and you can't make Crypticon, you can find the vendors we mentioned at crypticonseattle.com. You can also keep up with Kelli Maroney at www.kellimaroney.com. Be sure to visit her online shop we're you can buy autographs and more! Listen up for this episode's trivia too!! We are excited to be part of the Deluxe Edition Network. Check out this awesome collection of indie podcasts at www.deluxeeditionnetwork.com If you've BEEN enjoying The Steve & Crypto Show, and want to support your #3rd FAVORITE PODCAST, you can do so in the following places: Promote The Steve & Crypto Show and look really freakin' cool doing it with some merch: www.etsy.com/shop/SteveAndCryptoMerch Get exclusive content on Patreon: www.patreon.com/stevecrypto Buy Me A Coffee: www.buymeacoffee.com/stevecrypto Join the Facebook Group: www.facebook.com/groups/stevecryptoshow And of course be sure to follow Steve and Crypto Zoo on social media @thestevestrout and @cryptozoo88 both on Twitter and Instagram! Thank you for your support!
--- Send in a voice message: https://podcasters.spotify.com/pod/show/steveandcryptoshow/message
Episode comments
5 Ratings
eg., What part of this podcast did you like? Ask a question to the host or other listeners...
May 14
Like
Denise Cyr
@worldstruecrimepodcast
May 18
Like
Casey Schearer
@caseyschearer
May 17
1 Like
Spoil My Movie
@spoilmymovie
May 12
Like
1 week ago
Like
Show more
Generate a badge
Get a badge for your website that links back to this
Select type & size