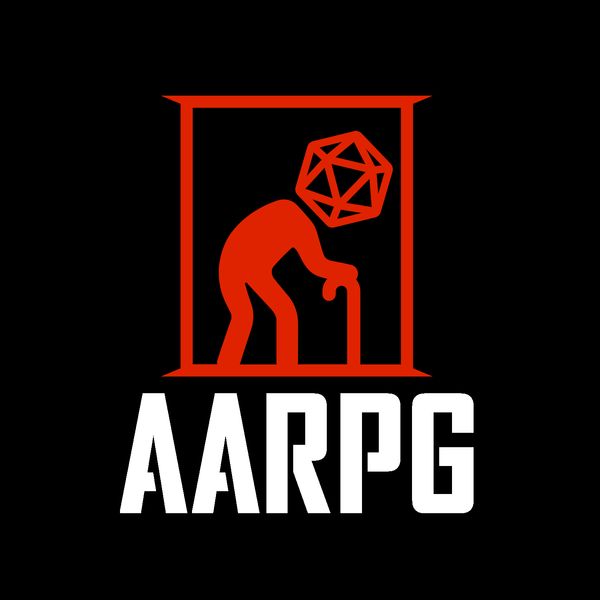 The AARPG Podcast
The AARPG Podcast

1 Creator
5.0
(3)

1 Creator
The Advanced Age Roleplaying Gamers Podcast is a bunch of nerds who've been gaming together for over 30 years hoping to capture the fun and comradery of the weekly game we started when the pandemic hit.

4 Listeners
5.0
(3)
Top 10 The AARPG Podcast Episodes
Best episodes ranked by Goodpods Users most listened
Show more
Why did you start this show?
We're 'another pandemic podcast'. When the pandemic hit and we were stuck at home, for the first time in decades, we actually had time to put together a weekly game. Most of us have been playing TTRPGs together for decades and it was a really great way to make the best of a bad situation. Matt came up with the idea to record it, and I (Nathan) jumped at the chance to flex my atrophied ear muscles and start experimenting with audio engineering after a 25 year hiatus.
What do you hope listeners gain from listening to your show?
If they have 1/10th of the fun that we have making the show then we've succeeded.
Which episode should someone start with?

Probably Session 1 of Always Cloudy in Kalisz, our Twilight 2000 game. We launched all of the Alien episodes at once when we launched the podcast. They were never meant to be aired, but we had so much fun, we thought we'd share them. The audio suuucks for the firs 3 episodes. We have a ton of great TTRPG Interviews to choose from, but I can't pick a favorite.

Which have been your favourite episodes so far?

Hmmmm

Which episode are you most proud of?

Probably Episode 10 of twilight 2000: "Jumping the Shark" (Nathan) It got pretty emotional and intense but it was super funny also. Matt probably has a different favorite

What is your vision for your show?

Uuuuhhhhhh.

What is your favourite other podcast that isn't yours?

I think we all love Pink Fohawk. They are just too damn good. I'm a big fan of the Rolled Standard & Nerd Poker. I like games where the players really have deep bonds. it really shows through in how they play and interact.

How did you come up with the name for your podcast?

I think my spouse had recently gotten an application for AARP...and it just came to me.

Tell us a bit about yourself

There are at least 8 of us: Nathan - Host, Editor, GM, Player Matt - Producer, Host, GM, Player Chris - GM, Player Tyr - GM, Player Malcolm - GM, Player Tony - Player Sean - Player Tim - Player

Show more Q&A
How many episodes does The AARPG Podcast have?
The AARPG Podcast currently has 89 episodes available.
What topics does The AARPG Podcast cover?
The podcast is about Leisure, Hobbies, Games and Podcasts.
What is the most popular episode on The AARPG Podcast?

The episode title '1: Alien RPG - Destroyer of Worlds - Episode 01 "Larry's Bear Claw"' is the most popular.

What is the average episode length on The AARPG Podcast?

The average episode length on The AARPG Podcast is 76 minutes.

How often are episodes of The AARPG Podcast released?

Episodes of The AARPG Podcast are typically released every 7 days, 3 hours.

When was the first episode of The AARPG Podcast?

The first episode of The AARPG Podcast was released on Mar 31, 2021.

Show more FAQ
Comments
3 Ratings