Back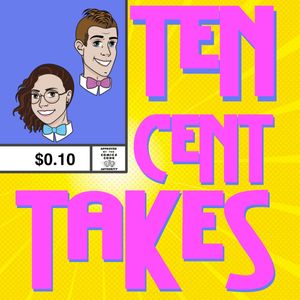 5.0
(7)
What happens when you combine two of the biggest brands of the early 1980s? You get RadioShack's TRS-80 Whiz Kids comics, with special guest stars from the DC Universe. Marvel at snarky teens sassing the Man of Steel, then laugh at how he makes them perform complex math with mediocre computers!
----more----
Episode 16 Transcript
Mike: [00:00:00] I used to go into an office, and when I did that, I had a dog that everybody loved and I baked cookies every day.
Hello, hello, hello, welcome to Ten Cent Takes, the podcast where we sell out as superheroes, one issue at a time. My name is Mike Thompson and I am joined by my co-host, the talk show host of terror, Jessika Frazer.
Jessika: Bwahahaha! I like when you give me nicknames that are a little mischievous and/or villainous, by the way.
Mike: I mean, villains are always the most fun.
Jessika: They really are. They get to do all the cool shit.
Mike: Yeah. You need a strong villain in order to have a good story.
Jessika: Absolutely.
Mike: The purpose of this podcast is to look at notable moments in comic book history. [00:01:00] They can be big or they can be small, but we always hope that they're interesting, and we like to talk about them in ways that are both fun and informative.
Today, we are going to be going back back back to the eighties and talking about the time that Superman sold computers for Radio Shack.
Jessika: Fucking sellout.
Mike: Man, I don't. Can you blame him though? I mean, he was a reporter, like he needed the extra cash.
Jessika: That's true. That does not pay all that much, from my understanding
Mike: Uh, speaking as someone who worked as a journalist for a decade, I can tell you it does not.
Jessika: Confirmed, everyone.
Mike: Confirmed. Before you freak out and think that you've missed an episode or that things are airing out of order, we are actually still doing the Sandman book club series, but we have decided to break it up, so it's not just one giant slog for people who aren't interested in Sandman. So that way there's a little something for [00:02:00] everybody, even as we're doing that prolonged experience.
So every other episode will be the Sandman book club. Before we get to that though. What is one cool thing that you have read or watched recently?
Jessika: Just last night, I watched the first episode of the Amazon Prime, let me just say it's 18+, animated series, Invincible.
Mike: Hmm.
Jessika: Have you seen that yet?
Mike: I haven't, I read the comic for a while and I really liked it, but then it just kind of felt very repetitive. And also, I didn't like how the comic got very women in refrigerator-y.
Jessika: Oh, okay, fair enough.
Mike: Like yeah. Um, I hear it's great. I just, it's kind of, it's kind of like The Boys where like, I read the comic and, and then when they announced they were making a TV [00:03:00] show, I went, eh don't know. I like, I'm not sure. I really want to see that translated to the screen and then it was great. And so I'm sure that Invisible will be great.
Jessika: I will be talking about The Boys later, in fact.
Mike: Oh okay. Well, then.
Jessika: But for now, yeah, I know, spoilers. So for those of you who hadn't seen it yet, it's about a teenage boy whose father is a famous superhero and the kid himself has also potentially expected to get powers, which he, not spoiling anything, he does, and very early on in this episode.
And when this happens, his father starts teaching them how to use them properly, even though he seems a little disappointed, even, that his really did have powers, which was kind of strange, but we'll see where that goes. But what I really liked about this series, is that they make fun of our well-known superheroes with a character like Batman and one that's very much like Wonder Woman, et cetera.
And again, I don't want to give too much away, but the ending is [00:04:00] super intense, and I'll definitely be watching more of it tonight after we've finished recording this.
Mike: Yeah. And I will say that the comic itself has moments that are shockingly intense too. And it's really interesting because there are these moments that feel very wholesome and playful, and then there are other scenes that are complete 180 and it's really, it's kind of whiplash.
Jessika: That was how it felt in the show as well. So I mean, that translated definitely.
Mike: Yeah, it's one thing that's actually really neat is that it's the guy who wrote the comic, Robert Kirkman, is also the guy who created the walking dead.
Jessika: Hm.
Mike: So, you know, dude knows how to write a hit.
Jessika: Yeah.I guess so, huh.
Mike: Yeah.
Jessika: Well, what about you? What have you been reading or watching?
Mike: You mentioned a...
Episode comments
7 Ratings
eg., What part of this podcast did you like? Ask a question to the host or other listeners...
Jan 18
Like
Jan 18
Like
Jan 18
Like
Jan 18
Like
Dec 11
Like
Dec 15
Like
Matt Sturdevant
@MattyxSturdz
Dec 10
Like
Show more
Generate a badge
Get a badge for your website that links back to this
Select type & size