To access all our features please use the Goodpods app.
Open the app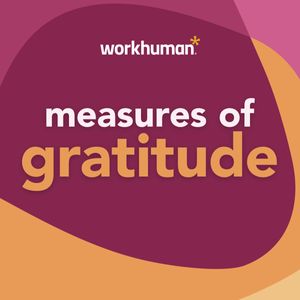 4.0
(2)
Like most human emotions, gratitude has a connotation of being intangible. But in fact, it's not just a 'nice to have' in our lives. It's a necessity. And the impact that it has on the human condition can be measured.
In this debut episode of Measures of Gratitude, we speak with Emiliana Simon-Thomas, the Science Director at the Greater Good Science Center.
Here are some of the highlights:
Gratitude is an emotion that comes with a sense of reciprocity – When someone contributes to our welfare, it increases our desire and motivation to contribute to their well-being in the future.
Rather than simply an "aspirational virtue," gratitude is an "evolved quality of human mental life" – When we recognize that others can do good, that benefits us – and compels us to do good in return.
People who are more grateful are happier – and their lives are better – People who score higher on a measure of gratitude feel better, are less disturbed by everyday hassles, and experience fewer physical and physiological issues.
Gratitude is the first building block toward creating a better company – When a company practices gratitude, employees are more inspired, less stressed, build more meaningful relationships, develop trust, and turn into better leaders.
Episode comments
2 Ratings
Review or comment on this episode...