Back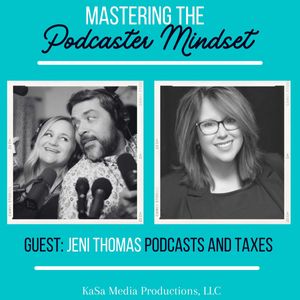 5.0
(2)
Did you know that you can set your podcast up as a corporation to give you maximum tax benefits? This week's podcast guest, Jeni Thomas is both a podcaster and a tax expert. She gives us some great tips for setting our podcast up as a business.
Episode takeaways:
Know the endgame for your podcast- is it a hobby or business? The IRS frowns on hobbies- cannot deduct expenses. So set your podcast up as a business from day 1.
LLC or Corp?-LLC is business entity... SCorp is a tax classification- layer on top of the LLC
SCorp has stand alone 1120s all income and expenses go through 1120s- K1 (like a W2) split profit...K1 goes on 1040 and taxed at regular tax rate
Save expenses, receipts, mileage logs. Jeni recommends the Stride App.
SCorp takes deductions- any biz costs...ex: podcast host, online recording, equipment, software, travel to conference (hotel, airfare, mileage, meals)- Red flags - stay away from meals & entertainment unless at a conference, home office
Sponsorships- any income over $600 reported to IRS (1099 from the company) Be sure to give biz EIN# (not SS#) to sponsors
LLC protects from legal suits- cannot come after you personally
Have a separate bank account for everything to do with podcast
Ok to take biz expenses out of personal account in the beginning. However, income needs to go into a business account from ad rev or sponsorships.
Any $$ personally invested in your biz/podcast is considered a "loan from the shareholder"
Take list of expenses to accountant- loan from shareholder...K1 comes off your taxable income or adds to your taxable income
Pay yourself through corp- deduction- will pay SS
Join our membership and get Jeni's tax masterclass! Join here
IG: iamjenithomas, keriandjeni
Pod: Honestly Unfiltered with Keri & Jeni
Email: honestlyunfiltered@keriandjeni.com
__________
Tiphany's Mic: Blueberry by Blue
Jeni's Mic: Shure MV7
David's Mic: Shure SM7B
__________
Produced by: KaSa Media Productions
Edited by : David Sais (aka Sexy Sound Guy)
Episode comments
2 Ratings
eg., What part of this podcast did you like? Ask a question to the host or other listeners...
Mar 6
Like
Mar 7
Like
Generate a badge
Get a badge for your website that links back to this
Select type & size