Back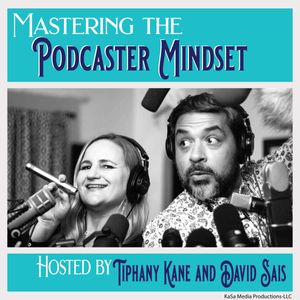 Podcasting can be a very isolating activity. As the podcaster, we often sit alone in front of our computer - doing hours of research, staying on top of social media engagement, building our website, the list goes on. We sit alone behind our mic when we record hoping we are saying things in a way that will resonate with our audience. Often this process can make us feel alone, isolated, and unsure of what we are doing. These feelings of isolation can also build up to frustration- wondering if we are doing it all wrong. Imposter syndrome can kick in- is anyone even listening? Is my message resonating?
So how do we continue to do this thing we love- podcasting...without feeling isolated, frustrated, or confused? We found the best way to alleviate all of these issues is to be an active member of a community of individuals with similar goals. Being an active, engaged member of a community like this can turn an isolating activity like podcasting into a connected and exhilarating venture..
Join our own Mastering the Art of Podcasting Membership group to be connected to a community of like-minded podcasters! Click this link to join
Episodes referenced:
Episode 22: Clever Conversations with Bri Campano
Experts who Taught Masterclasses in the Membership Group:
Jeni Thomas- Episode 24: Don't Be Afraid of the Big Bad Tax Wolf
Erin Ramsey- Episode 15: You're Such a Podcaster
_____
David's mic: Shure SM57 with A81WS windscreen
Tiphany's mic: Blueberry by Blue
______
Join our FREE Facebook community: Mastering the Podcaster Mindset Support Group
Get the Guide "The Biggest Mistake Podcaster Make and How to Avoid It":
DM us on IG: @podcastermindset
_______
Produced by: KaSa Media Productions
Edited by: The Sexy Sound Guy (aka David Sais)
Episode comments
1 Rating
eg., What part of this podcast did you like? Ask a question to the host or other listeners...
Generate a badge
Get a badge for your website that links back to this
Select type & size