Back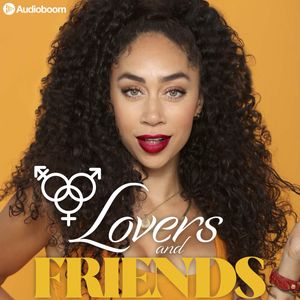 Tee aka HiMyNamesTee Tee is in a 12-year on and off relationship with her first love and first sexual partner that she feels equal parts hope and despair towards. Should she stay in feeling as though she's with her soul mate and twin flame OR run in knowing that she's tried so hard for so long and still...
Follow Shan
http://instagram.com/shanboody
Call in to the show to leave a voice note
‪(323) 375-4797
loversfriendspodcast@gmail.com
Follow the guests on this episode

Tee
Podcast: https://www.youtube.com/himynamestee
Instagram: https://www.instagram.com/himynamesteee/
Music: https://open.spotify.com/artist/5cdrxr9s52oZCf78xOLa4R

Here is the exercise Tee and I did together:

Section One Framing - tell the story of why you should stay and why you should go
Section Two - tell me the things that make you love you. Things that make you a positive, motivating force within your own life:
1) Can you currently approach growth and your outlook on the future from a place of worthiness?
2) Who are you, at your current best?
3) What parts of yourself do you want to protect at all cost?

4) What is your vision for your future?
5) What do you need to be happy in order to give yourself the best shot at making this vision a reality?

Section Three - answering the hard questions
1) If you had to sum up your relationship in one word, it would be?
2) Is this a familiar pattern?
3) When I think about the future of my relationship, I typically feel?
4) Are you your optimal self when you're with your partner?
5) Do you feel appreciated by your partner?
6) In a dream world scenario, what's the ideal relationship that you'd like to have with your partner?
7) In the real world, given what you know so far, what kind of relationship is possible, today
8) Have you tried hard enough in this relationship?
9) Should it be this much work?
10) If you had a son or daughter you deeply loved, would you want them to be in a relationship with someone like the person you are with right now?
11) How will my life change without this person?
12) How could my life change for the better with this person in it?
13) What haven't I learned from this relationship?
14) If I could get an email from myself ten years from now, what advice might it have?
15) If this is all there is, will it be enough?
16) How often do you fight with your partner?
18) Do you ever wish that you were in a relationship with someone else?

Section Four
I pulled those prompts from this research article https://journals.sagepub.com/doi/abs/10.1177/1948550617722834
You can also find a table of the prompts here in this article https://www.psychologytoday.com/us/blog/experimentations/201708/how-do-we-decide-whether-or-not-break
Episode comments
1 Rating
eg., What part of this podcast did you like? Ask a question to the host or other listeners...
Generate a badge
Get a badge for your website that links back to this
Select type & size