Back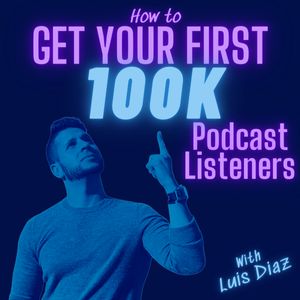 Riverside.fm, the leading tool for podcast and video recordings. Visit riverside.fm and use code LUIS to get 15% off a membership plan.
'DISCIPLINE EQUALS FREEDOM' is the mantra of Navy Seal Jocko Willink - a sentiment that is echoed in this episode by Luis Diaz and Colin Gray as they talk about how STRUCTURE EQUALS FREEDOM when it comes to producing top quality podcasts.
Colin Gray is the Founder of ThePodcastHost.com, a top online resource for podcast education. In this episode he shares his secret sauce on the number one ingredient required to help your podcast listeners breed success. You guessed it: structure. This episode is for anyone who's producing podcasts and is looking to up their audio game with stellar advice on guests, research, case studies - even seasons! All you need to know to give YOUR quality podcast content the structure it needs is right here.
"Any good intro needs to essentially give away all of the episode." – Colin Gray
In This Episode:
[8:45] How to think of your content as a 'lesson'
[10:45] The mistake of trying to tease too much or give too much info
[11:15] Scaffolding: explaining your structure to your audience
[12:42] Breaking your episode into: Intro, Theory, Case Studies, Action Steps
[14:52] Creating an ACTION as listener homework
[21:55]Formulating questions with your guests that allow you to move through each section
Resources:
Connect with Colin Gray:
- LinkedIn
Website: http://www.thePodcastHost.com
- YouTube
Episode comments
1 Rating
eg., What part of this podcast did you like? Ask a question to the host or other listeners...
Generate a badge
Get a badge for your website that links back to this
Select type & size