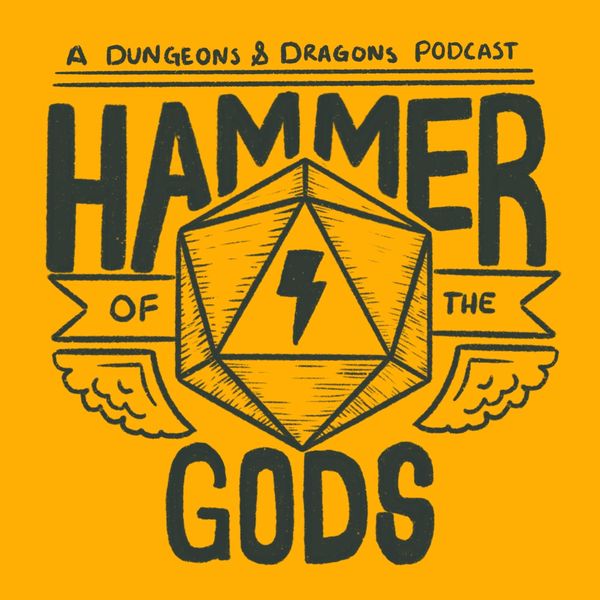 Hammer of the Gods
Hammer of the Gods
1 Creator
5.0
(68)
1 Creator
We're an actual play TTRPG podcast set in an alternate history home brew world based around Ancient Greece and Greek Mythology where Alexander the Great made allies with Atlantis to expand his empire beyond Earth. Follow the Hammpod crew as we explore this world and stay for the shenanigans and b.s. that ensue! Support this podcast:
https://anchor.fm/hammpod/support


3 Listeners
5.0
(68)
1 Comment
Top 10 Hammer of the Gods Episodes
Best episodes ranked by Goodpods Users most listened
Show more
Which episode should someone start with?
Our main cast intro and Episode Zero are great places to start, as are Episode One of Bad Boys of New Alexandria or Episode One of Chaotic Academia Pandaros!
Show more Q&A
How many episodes does Hammer of the Gods have?
Hammer of the Gods currently has 74 episodes available.
What topics does Hammer of the Gods cover?
The podcast is about Leisure, Games and Podcasts.
What is the most popular episode on Hammer of the Gods?

The episode title 'HammShot: Oceans Elven' is the most popular.

What is the average episode length on Hammer of the Gods?

The average episode length on Hammer of the Gods is 80 minutes.

How often are episodes of Hammer of the Gods released?

Episodes of Hammer of the Gods are typically released every 7 days, 4 hours.

When was the first episode of Hammer of the Gods?

The first episode of Hammer of the Gods was released on Nov 21, 2020.

Show more FAQ
Comments
69 Ratings
Jan 22
Like