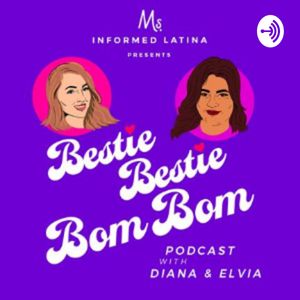 Bestie Bestie Bom Bom Podcast
Diana Pinedo and Elvia Sornoza
A Selena inspired podcast hosted by best friends, Elvia & Diana who have known each other for over 15 years. They go together como cafe con leche, agua con chocolate, and add a little spice to each other's lives. In this podcast they will share all the things they wish they would have learned growing up from career to relationships to wellness. Tune in to learn from them and their expert amigas as they help you dance into adulthood by adding a little bidi bidi bom bom to your life. Support this podcast:
https://podcasters.spotify.com/pod/show/bestiebestiebombom/support
Top 10 Bestie Bestie Bom Bom Podcast Episodes
Best episodes ranked by Goodpods Users most listened
Show more
How many episodes does Bestie Bestie Bom Bom Podcast have?
Bestie Bestie Bom Bom Podcast currently has 27 episodes available.
What topics does Bestie Bestie Bom Bom Podcast cover?
The podcast is about Podcasts and Education.
What is the most popular episode on Bestie Bestie Bom Bom Podcast?

The episode title 'Episode 11: 401(k) Que? Back to Basics' is the most popular.

What is the average episode length on Bestie Bestie Bom Bom Podcast?

The average episode length on Bestie Bestie Bom Bom Podcast is 52 minutes.

How often are episodes of Bestie Bestie Bom Bom Podcast released?

Episodes of Bestie Bestie Bom Bom Podcast are typically released every 7 days, 2 hours.

When was the first episode of Bestie Bestie Bom Bom Podcast?

The first episode of Bestie Bestie Bom Bom Podcast was released on Mar 5, 2020.

Show more FAQ
Comments
Rating