Back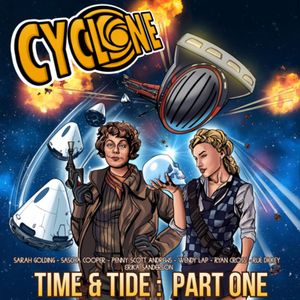 5.0
(1)
Far out in the cosmos, a group of freedom-fighters battle against a corrupt police state who are pushing the entire universe down a sinister path of controlled identity.
(S1E1)
Having found refuge at a remote, "icing-station," Mistress Georgina Verny and the Cyclone team await the return of their frozen comrades. But when they discover that they are being delivered by the notorious Galvin Tressler and his aide, it's clear that Cyclone's survival prospects have rapidly decreased.
Credits:
Written by Graham David Richards
Starring:
SARAH GOLDING - Georgina Verny
PENNY SCOTT ANDREWS - Briony Maybek
WENDY LAP - Coreen Kelly
RUE DICKEY - Ducan Nevis
RYAN CROSS - Joshua James
SASCHA COOPER - Louise Blissett
ERIKA SANDERSON - Officer Cannes
CHRISTINA COSTELLO - Tabatha Yale
SIMON JACKSON - Ben Heath
TIM WATSON - Clive Peeker
GRAHAM RICHARDS - Tressler
Music by Sophie Rose (Credited here as SAF)
Sound Design by Tapdancer
Cover Art by Martin Baines and MayakOne
Special thanks to:
Fiona Thaille
Matthew Exell
Kelly Jones
Sophie Methuen-Turner
Patricia Richards
Julia Eve
Callum Barkley
Darryl Harrison
David Tarron
Paul Wheatley
Lee Peterson
Jules Wadey
Darren Millar
Craig Daines
Dedicated to Adam Holyoake 1973 to 2019
Contains mild language and inferred strong sexual swearing
Running time 27mins approx
TRANSCRIPT:
https://www.dropbox.com/s/t2kikewt8qs1n2t/Cyclone_Time-and-Tide_Part-One%20TRANSCRIPT%20BY%20KIRSTY%20WOOLVEN.pdf?dl=0
Courtesy of Kirtsy Woolven.
Thank you!
Episode comments
1 Rating
eg., What part of this podcast did you like? Ask a question to the host or other listeners...
Glenda Blasts Your Ear Off
@gbyeo
Sep 3
Like
Generate a badge
Get a badge for your website that links back to this
Select type & size