Back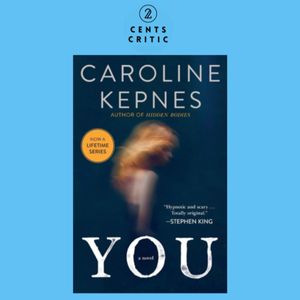 #81 - You by Caroline Kepnes (with Laura Petro and Meggie Gates of YA, We Read It!)
2 Cents Critic
5.0
(5)
Tune in as Laura Petro and Meggie Gates (YA, We Read It!) hang out with Arthur for a review and recap of You, the 2014 debut novel by Caroline Kepnes. This psychological thriller is quite the wild ride, following bookstore clerk Joe Goldberg as he endeavors to show aspiring writer Guinevere Beck just how much he loves her and wants to take care of her—so much so that he's willing to stalk, kidnap, and murder his way into her heart. The chillingly fleshed-out layers that Kepnes has written for the monstrous Joe, the many literary and film references, reimagining Werner Herzog as a food critic, and the parts of the story that play out like a rom-com are just a few of the topics that the hosts cover.
TW: stalking, murder, toxic relationship, misogyny, sexual content, drug abuse, infidelity, mentions of suicide, brief self-harm
Spoilers start at 26:00
Good Word:
• Meggie: Season 3 of Netflix's Love Is Blind
• Laura: Season 31 of Survivor
• Arthur: The House Across the Lake by Riley Sager
Reach out at email2centscritic@yahoo.com if you want to recommend things to watch and read, share anecdotes, or just say hello!
Be sure to subscribe, rate, and review on iTunes or any of your preferred podcasting platforms!
Follow Arthur on Twitter, Goodpods, StoryGraph, and Letterboxd: @arthur_ant18
Follow the podcast on Twitter and Instagram: @two_centscritic
Follow Arthur on Goodreads: https://www.goodreads.com/user/show/144101970-arthur-howell
--- Send in a voice message: https://podcasters.spotify.com/pod/show/arthur746/message
Episode comments
5 Ratings
eg., What part of this podcast did you like? Ask a question to the host or other listeners...
Drunk with Buds
@Drunkwithbudspodcast
Nov 26
Like
Arthur Howell
@arthur_ant18
Nov 23
Like
Nov 23
Like
Nov 26
Like
Nov 23
Like
Show more
Generate a badge
Get a badge for your website that links back to this
Select type & size