Back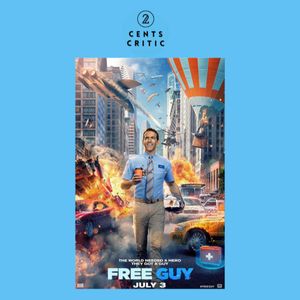 #71 - Free Guy | Directed by Shawn Levy (with Jessica and Saunya of Opinionated Lushes)
2 Cents Critic
5.0
(4)
Tune in as Jessica and Saunya (Opinionated Lushes) collaborate with Arthur for a deep dive into Free Guy, the 2021 action-adventure comedy that follows the happy-go-lucky bank teller Guy as he realizes he's an NPC (non-player character) inside a MMOG (massively multiplayer online game) called Free City. Are we being oversaturated with Ryan Reynolds's presence? How big of a role does the Manic Pixie Dream Girl stereotype play in the movie? Should we be concerned over Christopher Nolan's upbringing? The hosts chat about all that and more on this episode.
Directed by Shawn Levy (the Night at the Museum trilogy), Free Guy stars Ryan Reynolds, Jodie Comer, Lil Rel Howery, Utkarsh Ambudkar, Joe Keery, and Taika Waititi.
Spoilers start at 31:30
Good Word:
• Jessica: Unmask Alice: LSD, Satanic Panic, and the Imposter Behind the World's Most Notorious Diaries by Rick Emerson
• Saunya: Death Road to Canada
• Arthur: La La Land
Reach out at email2centscritic@yahoo.com if you want to recommend things to watch and read, share anecdotes, or just say hello!
Be sure to subscribe, rate, and review on iTunes or any of your preferred podcasting platforms!
Follow Arthur on Twitter, Goodpods, StoryGraph, and Letterboxd: @arthur_ant18
Follow the podcast on Twitter and Instagram: @two_centscritic
Follow Arthur on Goodreads: https://www.goodreads.com/user/show/144101970-arthur-howell
--- Send in a voice message: https://podcasters.spotify.com/pod/show/arthur746/message
Episode comments
4 Ratings
eg., What part of this podcast did you like? Ask a question to the host or other listeners...
Drunk with Buds
@Drunkwithbudspodcast
Nov 26
Like
Christopher Murray
@eljefe
Feb 27
1 Like
Arthur Howell
@arthur_ant18
Sep 14
1 Like
Sep 14
1 Like
Generate a badge
Get a badge for your website that links back to this
Select type & size