Back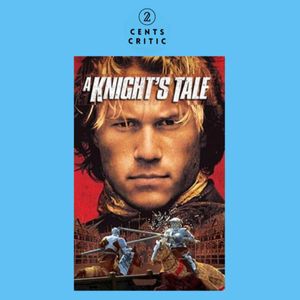 #47 - A Knight's Tale | Directed by Brian Helgeland (with Shelby Schwieterman and Sam Frontera of The Rom Complex)
2 Cents Critic
5.0
(4)
Tune in as Shelby Schwieterman and Sam Frontera (The Rom Complex) hang out on 2CC to cover the 2001 rock 'n roll medieval sports adventure, A Knight's Tale. They also chat about Nike product placement, the aural creativity of foley artists, and whether or not Rufus Sewell always plays villains (considering Arthur looked up The Man in the High Castle post-recording and found out that he does indeed play the main antagonist as the Reichsführer of Nazi America, let's say the answer is "yes").
Directed by Brian Helgeland (42), A Knight's Tale stars Heath Ledger, Shannyn Sossamon, Rufus Sewell, Paul Bettany, Alan Tudyk, Mark Addy, Laura Fraser, Berenice Bejo, James Purefoy, and Christopher Cazenove.
Spoilers start at 12:00
Note: Arthur was mistaken. Helgeland's Legend is a gangster movie, not a spy movie.
Good Word:
• Sam: ABC's Abbott Elementary
• Shelby: House of Leaves by Mark Z. Danielewski
• Arthur: Love and Monsters
Reach out at email2centscritic@yahoo.com if you want to recommend things to watch and read, share anecdotes, or just say hello!
Be sure to subscribe, rate, and review on iTunes or any of your preferred podcasting platforms!
Follow Arthur on Twitter, Goodpods, and StoryGraph: @arthur_ant18
Follow the podcast on Twitter: @two_centscritic
Follow Arthur on Goodreads: https://www.goodreads.com/user/show/144101970-arthur-howell
--- Send in a voice message: https://podcasters.spotify.com/pod/show/arthur746/message
Episode comments
4 Ratings
eg., What part of this podcast did you like? Ask a question to the host or other listeners...
Jul 18
Love this movie, used to own the soundtrack!
1 Like
Feb 23
Like
Christopher Murray
@eljefe
Mar 15
Like
Arthur Howell
@arthur_ant18
Mar 9
Like
Generate a badge
Get a badge for your website that links back to this
Select type & size