Back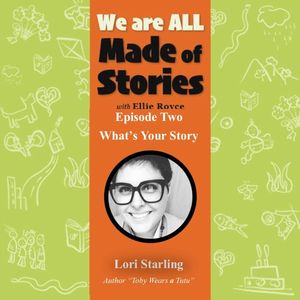 Welcome to episode two! What better way to start 2021 than celebrating the launch of a beautiful new picture book?
I chat to Lori Starling about their gorgeous picture book "Toby Wears A Tutu" out on January 12th .
Lori Starling is a writer, poet, amateur ukulele player, and lover of all things Poe, Dickinson, and Plath. They are both a children's and young adult fiction writer, who strives to make their world realistic for readers. Fans of their work love to find comfort in knowing that they are not alone in their experiences and can find solitude within its pages. As an esteemed logophile, (lover of words), and an advocate for all, they bring these marginalized voices, (especially LGBTQ+), to their writing, so they can be heard. Starling wishes to empower readers and give them a sense of belonging, as well as confidence.
Starling holds an MFA in Creative Writing, a B.A. in English and Creative Writing, as well as other associate degrees in Business Administration, Science, and Computer Information Systems. They have written for various online publications, such as Planting Seeds in South Carolina Magazine and One Green Planet. Their short stories and poems can be seen in Life in 10 Minutes Literary Magazine, Beyond Queer Words: A Collection of Poems, The Daily Drunk, and WriteNow Literary Journal. They are a member of The Society of Children's Book Writers and Illustrators, (SCBWI), and an emerging writer member of The Author's Guild. When they're not writing, you can find them outside in the garden, doodling, making music with their five-year-old son, or cooking up something good in the kitchen. They work as a freelance writer/editor and is the co-founder/editor of Clay Literary, a monthly online publication featuring work from creators aged 14+. Their next children's book, Toby Wears a Tutu, debuts in early 2021.
We talk all things children's literature, diversity, inclusion and inspiration ( Even Bob Ross gets a mention!)
Toby Wears A Tutu
Lori Starling (Author), Anita DuFalla (Illustrator)
It's the first day of school, and Toby is dressed in their best and ready to make new friends! But first, Toby's new classmates want to know: Is Toby a boy or a girl? Toby isn't sure how to answer. Toby likes to wear basketball shorts and tutus. Toby plays ninjas and dances ballet. Finally, after a little thought and some encouragement from Mom, Toby has a declaration to make: they can eat, wear, do, or be anything they want! Toby isn't a boy or a girl—Toby is just Toby
Publisher : Brandylane Publishers, Inc. (12 January 2021)
Language: : English
Print on Demand (Hardcover) : 32 pages
ISBN-10 : 195156538X
ISBN-13 : 978-1951565381
Reading age : 4 - 8 years
Dimensions : 17.78 x 0.64 x 25.4 cm
Episode comments
1 Rating
eg., What part of this podcast did you like? Ask a question to the host or other listeners...
Generate a badge
Get a badge for your website that links back to this
Select type & size