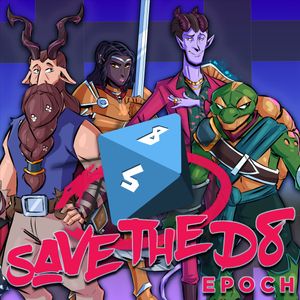 Save The D8
Partyfish Media



3 Creators
5.0
(69)



3 Creators
People are getting abducted from their homelands and trapped in a prison with no name. Prisoners are kept under substandard conditions and either executed or forced to work for the prison when their time comes. Four of these prisoners plan to escape this terrible place and find their way home! From Partyfish Media 🎉🐟 Support this podcast:
https://anchor.fm/savethed8pod/support



10 Listeners
5.0
(69)
1 Comment
Top 10 Save The D8 Episodes
Best episodes ranked by Goodpods Users most listened
Show more
Why did you start this show?
We started this show to defeat the most dangerous monster in TTRPG games... the dreaded scheduling conflict!
What do you hope listeners gain from listening to your show?
We hope to entertain our audience with our story and player antics. We want our audience to feel like they are hanging out at the table with us.
Which episode should someone start with?

I suggest starting with Episode 1 of our third season, Epoch. While I love our first two seasons, I believe we have corrected several mistakes we made as a fledgling podcast, and you can hear our improvement.

Which have been your favourite episodes so far?

The Titan Back Arc has been one of our favorites as we stretch our roleplay and improv skills in a very grimdark kind of world. Also, one of the best boss fights in the series.

Which episode are you most proud of?

An upcoming one where the players got to race personalized battlekarts! The entire crew had such a blast playing it, breaking the norm of 5e combat for some unorthodox mechanics.

What is your vision for your show?

To build a story as a team of friends, hopefully with some extra additions from our audience of what they would like to see happen.

What is your favourite other podcast that isn't yours?

I have been enjoying the No Latency podcast as I have found a newfound love for the cyberpunk world. I also found Friend and Foe: Adventure Co. enjoyable with such an interesting TTRPG system.

Show more Q&A
How many episodes does Save The D8 have?
Save The D8 currently has 254 episodes available.
What topics does Save The D8 cover?
The podcast is about Leisure and Podcasts.
What is the most popular episode on Save The D8?

The episode title 'Epoch #19- Fear Sir! Fear Sir! Four Bags Full!' is the most popular.

What is the average episode length on Save The D8?

The average episode length on Save The D8 is 52 minutes.

How often are episodes of Save The D8 released?

Episodes of Save The D8 are typically released every 7 days.

When was the first episode of Save The D8?

The first episode of Save The D8 was released on Nov 15, 2018.

Show more FAQ
Comments
69 Ratings
Oct 19
Like