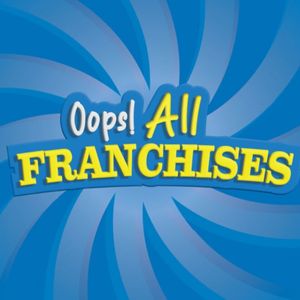 Oops, All Franchises
Partyfish Media


2 Creators
5.0
(19)


2 Creators
Oops, All Franchises is the film podcast that's on the quest to find the best movie sequel around. We go film franchise to film franchise, ranking sequels, and discussing what makes a good follow-up to the original all until we crown the greatest franchise of them all! Presented by Partyfish Media 🎉🐟 Support this podcast:
https://anchor.fm/oopsallfranchisespod/support


3 Listeners
5.0
(19)
Top 10 Oops, All Franchises Episodes
Best episodes ranked by Goodpods Users most listened
Show more
How many episodes does Oops, All Franchises have?
Oops, All Franchises currently has 21 episodes available.
What topics does Oops, All Franchises cover?
The podcast is about Film History, Podcasts and Tv & Film.
What is the most popular episode on Oops, All Franchises?

The episode title 'S01E15 - The Godfather' is the most popular.

What is the average episode length on Oops, All Franchises?

The average episode length on Oops, All Franchises is 68 minutes.

How often are episodes of Oops, All Franchises released?

Episodes of Oops, All Franchises are typically released every 20 days, 23 hours.

When was the first episode of Oops, All Franchises?

The first episode of Oops, All Franchises was released on Jun 2, 2022.

Show more FAQ
Comments
25 Ratings
Mar 24
Like