Back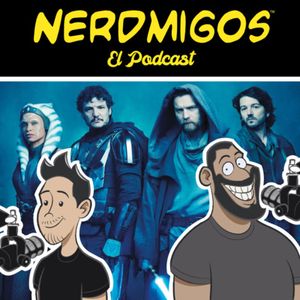 ¡Star Wars en la revista "Vanity Fair"!
Nerdmigos
5.0
(4)
Isma y Adrián platican sobre el futuro de Star Wars presentado en la revista "Vanity Fair", que incluye las series de Disney+ "Obi-Wan Kenobi", "Andor", "The Mandalorian" Temporada 3, y "Ahsoka" 🤓🎙️🤘🇲🇽
También, platican sobre el tercer episodio de "Star Trek: Strange New Worlds" 🖖🏼
Además, noticias recientes, incluyendo, "The Boys", "The Umbrella Academy", "She-Hulk: Attorney at Law", "Daredevil", "MultiVersus", y "Doctor Who".
¡Bienvenidos a Nerdonia!
#WelcomeToNerdonia #Nerdmigos #Nerd #Geek #CulturaPop #podcast #PodNation #IndiePodcastsUnite #StarTrek #StrangeNewWorlds #DisneyPlus #StarWars #ObiWanKenobi #Andor #TheMandalorian #Ahsoka #VanityFair #TheBoys #TheUmbrellaAcademy #SheHulk #Daredevil #MultiVersus #DoctorWho
JUST THE TIP (PayPal Tip Jar) http://paypal.me/IAMOdoodles
"NERDMIGOS" en PATREON:
https://www.patreon.com/Nerdmigos
SITIO WEB OFICIAL:
FACEBOOK:
https://www.facebook.com/nerdmigos
TWITTER
INSTAGRAM:
https://www.instagram.com/Nerdmigos
YOUTUBE:
https://www.youtube.com/user/TheNerdmigos
Con Ismael Alejandro Moreno Ozuna (Caricaturista y Diseñador de Personajes) y Adrián Zambrano (Creador de "Valle de Cielo Gris").
Pide tus caricaturas creadas por IAMO: https://www.iamodoodles.com/
Escucha "Valle de Cielo Gris": https://www.cielogris.com/
INTRO:
Voz: Mariela de Suamca
Música: Sith Vázquez (Natalia Conrique)
"Fe en el corazón"
Interpretada por Alex Murillo
Escrita por Diane Warren
Traducida al español por Alex Murillo
Episode comments
4 Ratings
eg., What part of this podcast did you like? Ask a question to the host or other listeners...
Ismael Alejandro Moreno Ozuna
@iamo
May 24
New episode where we talk about the future of Star Wars featured in "Vanity Fair"... En Español! 🤓🎙️🤘🏼🇲🇽
1 Like
May 24
1 Like
Raphael Moran
@thegeekydadpodcast
May 22
1 Like
May 24
1 Like
Generate a badge
Get a badge for your website that links back to this
Select type & size