Back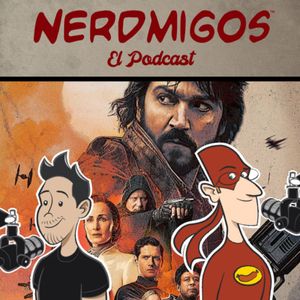 ¡Comienza la serie de Star Wars "Andor"!
Nerdmigos
5.0
(5)
Isma y nuestro invitado, educador y coleccionista Joaquín Chávez Espinosa, platican sobre los primeros cuatro episodios de la serie de Star Wars "Andor" en Disney+ 🤓🎙️🤘🇲🇽
Además, noticias recientes, incluyendo Hugh Jackman como Wolverine en "Deadpool 3", James Earl Jones, la serie de "Scanners", una nueva película de 'Karate Kid', 'Kingdom of the Planet of the Apes', 'Armor Wars', y la serie secuela de "Blade Runner".
¡Bienvenidos a Nerdonia!
#WelcomeToNerdonia #Nerdmigos #podcast #Nerd #Geek #CulturaPop #PodNation #IndiePodcastsUnite #Disney #DisneyPlus #Marvel #StarWars #Andor #HughJackman #Wolverine #Deadpool3 #JamesEarlJones #DarthVader #Scanners #KarateKid #KingdomOfThePlanetOfTheApes #ArmorWars #BladeRunner
SITIO WEB OFICIAL:
TIENDA NERDMIGOS: https://www.teepublic.com/stores/nerdmigos?ref_id=27640
JUST THE TIP (PayPal Tip Jar) http://paypal.me/IAMOdoodles
"NERDMIGOS" en PATREON:
https://www.patreon.com/Nerdmigos
FACEBOOK:
https://www.facebook.com/nerdmigos
TWITTER
TIKTOK
https://www.tiktok.com/@nerdmigos
INSTAGRAM:
https://www.instagram.com/Nerdmigos
YOUTUBE:
https://youtube.com/@Nerdmigos
GOODPODS:
https://www.goodpods.com/podcasts/185890
Con Ismael Alejandro Moreno Ozuna (Caricaturista y Diseñador de Personajes).
Inscríbete para una clase online GRATIS con IAMO: https://www.iamodoodles.com/nerdmigos
INTRO:
Voz: Mariela de Suamca
Música: Sith Vázquez (Natalia Conrique)
"Fe en el corazón"
Interpretada por Alex Murillo
Escrita por Diane Warren
Traducida al español por Alex Murillo
Episode comments
5 Ratings
eg., What part of this podcast did you like? Ask a question to the host or other listeners...
Ismael Alejandro Moreno Ozuna
@iamo
Oct 7
New episode where we talk about the first 4 episodes of "Star Wars: Andor"... En Español!!! 🤓🎙️🤘🏼🇲🇽
Like
Oct 4
1 Like
Raphael Moran
@thegeekydadpodcast
Oct 3
1 Like
Oct 3
1 Like
Oct 3
Like
Show more
Generate a badge
Get a badge for your website that links back to this
Select type & size