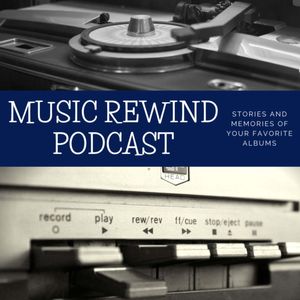 Music Rewind
Sidereal Media Group

1 Creator
5.0
(61)

1 Creator
Stories and Memories of your favorite Albums. Join us as we invite on a guest each episode to talk about their favorite music album, how they discovered it, and what makes it special to them. All genres and guests from all over the world make for some fascinating conversations. You may find some music you have missed. Almost everyone has that one album that is extra special to them for many reasons. Perhaps they discovered it as an impressionable 6 yr old, or maybe it is an album that spoke to them in college and changed their life views. An album could be the soundtrack to an important moment in your life, for better or for worse. If you want to hear these stories, then Music Rewind is for you. A podcast from the Sidereal Media Group.



13 Listeners
5.0
(61)
1 Comment
Top 10 Music Rewind Episodes
Best episodes ranked by Goodpods Users most listened
Show more
How many episodes does Music Rewind have?
Music Rewind currently has 46 episodes available.
What topics does Music Rewind cover?
The podcast is about Music, Podcasts, Music Interviews and Music Commentary.
What is the most popular episode on Music Rewind?

The episode title 'Neil Young and Crazy Horse: Live Rust with guest Julience' is the most popular.

What is the average episode length on Music Rewind?

The average episode length on Music Rewind is 67 minutes.

How often are episodes of Music Rewind released?

Episodes of Music Rewind are typically released every 14 days.

When was the first episode of Music Rewind?

The first episode of Music Rewind was released on Oct 22, 2021.

Show more FAQ
Comments
61 Ratings
Sidereal Media Group
@siderealmedia01
Aug 17
Like