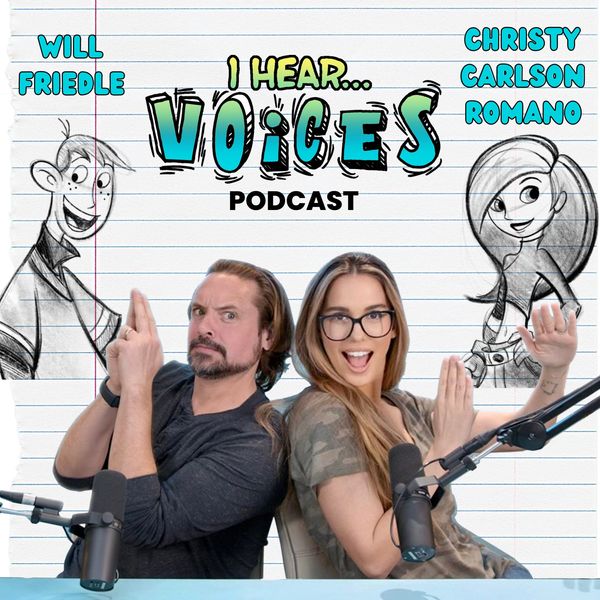 I Hear Voices
iHeartPodcasts
5.0
(4)
Animated characters have befriended our imaginations since childhood, but have you ever wondered, "Who is the person behind that VOICE?" I Hear Voices is a celebration of our favorite VOICES in animation, video games, anime, and more! Hosted by the dynamic Kim Possible duo, Christy Carlson Romano (Even Stevens, Big Hero 6) and Will Friedle (Boy Meets World, Batman Beyond), this family-friendly podcast invites you to learn about the people behind your favorite characters. Join us every Friday to hear/watch the many amazing voices! From superheroes to the quirkiest characters, to the voices that entertain your toddlers, I Hear Voices is your weekly dose of hilarious conversation with a dash of nostalgia. Plus, each episode will feature a playful segment where Christy, Will, and their guests interact with the I Hear Voices audience and create voices for original characters! Beyond podcast episodes, I Hear Voices will also be offering opportunities for their listeners to connect with their characters, through community building, virtual live events, and other surprise opportunities that we have in store. Follow I Hear Voices on Instagram and Tiktok on @ihearvoicespodcast, watch the video version on Christy's YouTube Channel.



7 Listeners
5.0
(4)
Top 10 I Hear Voices Episodes
Best episodes ranked by Goodpods Users most listened
Show more
How many episodes does I Hear Voices have?
I Hear Voices currently has 89 episodes available.
What topics does I Hear Voices cover?
The podcast is about Film Interviews, Kids & Family, Podcasts and Tv & Film.
What is the most popular episode on I Hear Voices?

The episode title 'The Voice of BUGS BUNNY Can Freaking Draw!' is the most popular.

What is the average episode length on I Hear Voices?

The average episode length on I Hear Voices is 56 minutes.

How often are episodes of I Hear Voices released?

Episodes of I Hear Voices are typically released every 7 days.

When was the first episode of I Hear Voices?

The first episode of I Hear Voices was released on Mar 4, 2022.

Show more FAQ
Comments
4 Ratings