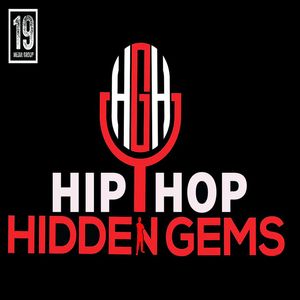 Hip-Hop Hidden Gems
19 Media Group

1 Creator
5.0
(69)

1 Creator
Hip-Hop Hidden Gems is all about celebrating the music that has shaped a generation (or two). This bi-weekly podcast, hosted by TheMoJoKing & Willie Freeman (AKA Vision) will focus on the artforms undervalued and underappreciated. Each episode will be dedicated to a song that didn't receive it's proper shine upon its initial release. Mo and Willie will revisit each track, and discuss its strengths and weaknesses. They also will provide interesting tidbits of information about the songs and the artists behind the music.
For hardcore hip-hop fans HHHG will provide a sense of nastalgia.
For more modest fans HHHG may be a chance to learn something new.
But for all hip hop fans HHHG will be a celebration. Come party with us.


23 Listeners
5.0
(69)
2 Comments
Top 10 Hip-Hop Hidden Gems Episodes
Best episodes ranked by Goodpods Users most listened
Show more
How many episodes does Hip-Hop Hidden Gems have?
Hip-Hop Hidden Gems currently has 13 episodes available.
What topics does Hip-Hop Hidden Gems cover?
The podcast is about Music, Music History, Podcasts and Music Commentary.
What is the most popular episode on Hip-Hop Hidden Gems?

The episode title '1 Jewel: 1 Verse - O.C. (Times Up)' is the most popular.

What is the average episode length on Hip-Hop Hidden Gems?

The average episode length on Hip-Hop Hidden Gems is 26 minutes.

How often are episodes of Hip-Hop Hidden Gems released?

Episodes of Hip-Hop Hidden Gems are typically released every 34 days.

When was the first episode of Hip-Hop Hidden Gems?

The first episode of Hip-Hop Hidden Gems was released on Oct 15, 2021.

Show more FAQ
Comments
69 Ratings
Desmond Powell
@desmondpowell_
Aug 26
Like
Aug 28
Like