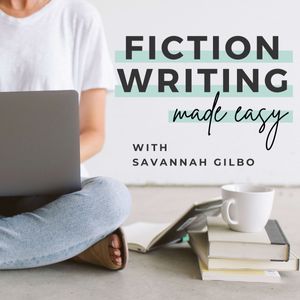 Fiction Writing Made Easy
Savannah Gilbo

1 Creator
4.0
(3)

1 Creator
How do I write a book? How do I create compelling characters that readers will love? How do I build a believable world for my story? What does it even mean to write a story that works? Do you have any writing tips? These are just some of the big questions that developmental editor and book coach, Savannah Gilbo, digs into on the Fiction Writing Made Easy Podcast. Each week, Savannah shares actionable tools, tips, and strategies that will help you write, edit, and publish your book. So, whether you're brand new to writing, or a seasoned author looking to improve your craft, this podcast is for you!



3 Listeners
4.0
(3)
1 Comment
Top 10 Fiction Writing Made Easy Episodes
Best episodes ranked by Goodpods Users most listened
Show more
Curated by Savannah Gilbo
How many episodes does Fiction Writing Made Easy have?
Fiction Writing Made Easy currently has 101 episodes available.
What topics does Fiction Writing Made Easy cover?
The podcast is about Writer, Fiction, Writing, How To, Author, Podcasts, Books, Education, Arts and Novel.
What is the most popular episode on Fiction Writing Made Easy?

The episode title 'How to Test Your Story Idea Before Writing' is the most popular.

What is the average episode length on Fiction Writing Made Easy?

The average episode length on Fiction Writing Made Easy is 24 minutes.

How often are episodes of Fiction Writing Made Easy released?

Episodes of Fiction Writing Made Easy are typically released every 7 days.

When was the first episode of Fiction Writing Made Easy?

The first episode of Fiction Writing Made Easy was released on Mar 10, 2020.

Show more FAQ
Comments
3 Ratings
Savannah Gilbo
@savannahgilbo
Jun 22
Like