Back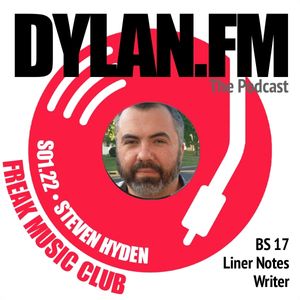 S01.22 Steven Hyden - Liner Notes Writer for FRAGMENTS: Time Out Of Mind Sessions (Bootleg Series 17)
Dylan.FM
Steven Hyden wrote the liner notes for The Bootleg Series 17: Fragments - The Time Out Of Mind Sessions, and in this episode talks to us about the assignment, his assessment of Bob Dylan in 1997, and how the narrative of the times stood up to 25 years of additional Bob Dylan output.
Hyden is a respected music writer, and his latest book is called Long Road: Pearl Jam and the Soundtrack for a Generation, and he's also the author of Your Favorite Band is Killing Me, Twilight of the Gods and several others. He writes regularly at Uproxx where he is officially the 'Cultural Critic', Plus: he has a new Bob Dylan Podcast focusing on Live shows from the Never Ending Tour - called Never Ending Stories.
His essay in the CD and LP box sets talks about how Dylan was positioned and perceived in the media around 1997, and how that narrative didn't exactly align with reality and how 25 years has utterly destroyed the popular assumptions of the time.
In this conversation we talk about how Steven got the gig, what he was asked to do, his thoughts about summing up 60 years of Bob Dylan, what it meant at the time for a 55 year old to make an album, the role Daniel Lanois played, what the new mix and outtakes say about the album, his thoughts on the live tracks that are included, the future of the Bootleg Series, and much more.
This is a new interview done on January 30, 2023
Our Dylan.FM Premium Members get an extended version of this conversation with an extra 40 minutes of discussion, as well as the option to watch the video version of our interview. Join us to go deep on Dylan with extended versions and videos of all of our podcasts, exclusive posts, access to special events, and more. To become a member click here.
Or help support this podcast with a contribution via our Tip-Jar:
LINKS:
Get Our Weekly Bob Dylan Newsletter
Every week we collect and organize all the latest Bob Dylan News and Links, including new releases, reviews, concerts, podcasts, books, and share then in an organized list. Stay up-to-date on everything in the world of Bob Dylan.
Episode comments
1 Rating
eg., What part of this podcast did you like? Ask a question to the host or other listeners...
Generate a badge
Get a badge for your website that links back to this
Select type & size