Back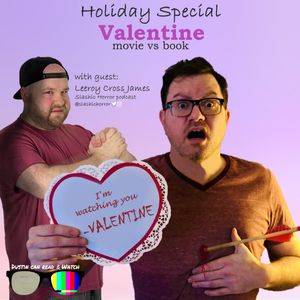 5.0
(3)
Candy Hearts! Cupid Masks! Stalkers! Oh My!
Based on a listener suggestion (thanks Derek!), Dustin and guest Leeroy Cross James (host of Slashic Horror podcast) read the 1996 novel Valentine by Tom Savage to compare it to the 2001 movie Valentine that's supposedly an adaptation and found MAJOR differences between the two.
SPOILERS AHEAD as they recap both the movie & the book!
MA (only adults recommended)
GUEST INFO
Leeroy on Instagram: @leeroycrossjames
Leeroy on Twitter: @ZombiLeeroy
Slashic Horror on Twitter & Instagram: @slashichorror
Slashic Horror podcast available on Apple, Spotify, and Goodpods & more!
SHOW INFO
Instagram: @dustincanread
Twitter: @dustin_holden
Email: dustincanreadpod@gmail.com
New DCR&W Theme music by Brooks Leibee (Twitter: @Brooks_Leibee )
Transitional sounds by Dustin Holden
Episode comments
3 Ratings
eg., What part of this podcast did you like? Ask a question to the host or other listeners...
Danielle Clarke
@nomorelatefees
Feb 11
Another great episode. Had no idea this movie was based on a book. Really fun time.
1 Like
Dustin Holden
@dustincholden
Feb 12
"Based" is a loose term here lol
Like
Feb 15
This was a fun episode! I love how they broke down this terrible movie, and the additional comparison to the book they adapted was entertaining. Just goes to show how many liberties Hollywood takes 🤷🏻 awesome episode!
1 Like
Scott Eisenberg
@shoottheflick
Feb 17
1 Like
Generate a badge
Get a badge for your website that links back to this
Select type & size