Back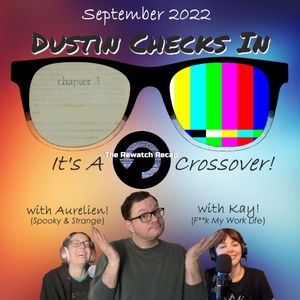 5.0
(7)
A casual conversation about pop culture and life with The Rewatch Recap co-hosts: Aurelien (Spooky & Strange podcast) & Kay (F**k My Work Life podcast)
MA (only adults recommended
GUEST INFO
Aurelien on Instagram & Twitter: @spookyaurelien
Kay on Instagram & Twitter & TikTok: @fmwlpod
https://linktr.ee/fmwlpod
SHOW INFO
Instagram: @dustincanread
Twitter: @dustin_holden
Email: dustincanreadpod@gmail.com
Tip: Goodpods
DCR&W Theme music by Brooks Leibee (Twitter: @Brooks_Leibee )
Episode comments
7 Ratings
eg., What part of this podcast did you like? Ask a question to the host or other listeners...
Sep 29
I'm proud of how many shows we name check in this single episode.
1 Like
Dustin Holden
@dustincholden
Sep 29
@aurelien
proud or concerned? lol
Like
Sep 29
@dustincholden
Hey, who wants to listen to the opinions of people who haven't seen every show?
Like
Sep 29
Had so much fun chatting with Dustin & Aurelien!
2 Likes
Dustin Holden
@dustincholden
Sep 29
@fmwlpod
I really wanna make a part two to this soon - maybe we'll get to the actual topics I had planned haha
Like
Dana Nydia Cindy
@CrimeDiner
Oct 4
1 Like
Sep 30
1 Like
John DiGregorio
@movieloversunite
Oct 6
1 Like
Karen DeVanie
@kdevanie_sugarcoated
Oct 6
1 Like
Oct 7
1 Like
Raphael Moran
@thegeekydadpodcast
Oct 16
1 Like
Show more
Generate a badge
Get a badge for your website that links back to this
Select type & size