Back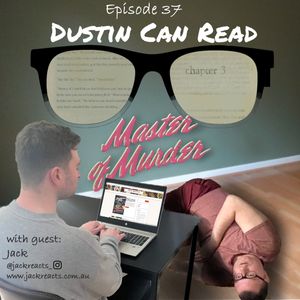 5.0
(7)
In celebration of Netflix's The Midnight Club, Dustin is joined by Jack (of the blog, Jack Reacts) to recap 1992's Master of Murder (also by Christopher Pike). Confusion ensues.
MA – Mature Teens+ (strong language; sexual situations)
GUEST INFO
Jack on Instagram: @JackReacts_
www.jackreacts.com.au
SHOW INFO
Instagram: @dustincanread
Twitter: @dustin_holden
Email: dustincanreadpod@gmail.com
Tip: Goodpods
DCR&W Theme music by Brooks Leibee (Twitter: @Brooks_Leibee )
Additional Sound Effects (typing, Maelstrom, printer printing) provided by Zapsplat.com
Episode comments
7 Ratings
eg., What part of this podcast did you like? Ask a question to the host or other listeners...
Sep 23
This is some heavy shit for a YA novel! 😲
3 Likes
Dustin Holden
@dustincholden
Sep 23
@fmwlpod
that's Christopher Pike for you! 😉
2 Likes
Amber And Maddie
@witchestalkingtarot
Sep 23
Witch is the only one of those books I haven't read ironically 😅 Just gonna throw out there I have read 95% of Pike's works... 😉🙃 if you're gonna cover more 😁😁😁
2 Likes
Dustin Holden
@dustincholden
Sep 23
@witchestalkingtarot
we shall see… gonna take a break on Pike for a little bit to talk about some others
1 Like
Sep 22
2 Likes
Mick Manhattan
@thescenesnobs
Sep 22
1 Like
Raphael Moran
@thegeekydadpodcast
Sep 22
2 Likes
Levi McCurdy
@levi_mccurdy
Sep 23
1 Like
Sep 23
2 Likes
Show more
Generate a badge
Get a badge for your website that links back to this
Select type & size