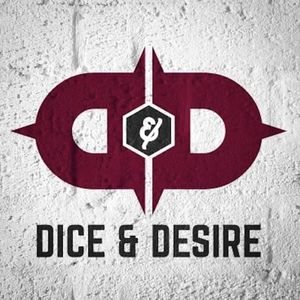 Dice and Desire
Dice and Desire
1 Creator
5.0
(47)
1 Creator
Six friends go adventuring in this actual play Dungeons and Dragons 5e podcast. Listen to find out how they avoid a TPK this week! New episodes every Wednesday.


22 Listeners
5.0
(47)
10 Comments
Top 10 Dice and Desire Episodes
Best episodes ranked by Goodpods Users most listened
Show more
How many episodes does Dice and Desire have?
Dice and Desire currently has 162 episodes available.
What topics does Dice and Desire cover?
The podcast is about Leisure, Games and Podcasts.
What is the most popular episode on Dice and Desire?

The episode title 'Storm King's Thunder - Ep 131 - Through the Fire and the Chains' is the most popular.

What is the average episode length on Dice and Desire?

The average episode length on Dice and Desire is 40 minutes.

How often are episodes of Dice and Desire released?

Episodes of Dice and Desire are typically released every 7 days.

When was the first episode of Dice and Desire?

The first episode of Dice and Desire was released on Jul 22, 2020.

Show more FAQ
Comments
47 Ratings
Mar 29
Like
Mar 29
1 Like
Mar 29
Like
Jonathan Swenson
@jaygswenson
Mar 28
Like
Mar 28
Like
Mar 28
Like
Mar 28
Like
Mar 28
Like
Show more