Back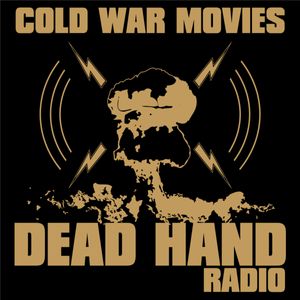 5.0
(1)
COLD WAR MOVIES WITH PODCASTER JAMIE RAY
RUNTIME - 1:25
Dead Hand Radio is a podcast about the Cold War. It's history and the effects it had on our culture, technology and the future of our world.
My guest for this episode is Jamie Ray. A fellow member of the Slightly Irregular Podcast Network and the creator & host of Fav Five From Fans, a podcast where he and his guests each make a list and discuss their five favorites of anything.
Jamie grew up during the 70s and 80s, and as a child of the cold war, he shares very similar feelings, as many others from that era.
On this episode of Dead Hand Radio, Jamie and I discuss Movies about the cold war.
We talk about The Day After, Threads, By Dawn's Early Light, On the Beach and Fail Safe. These are all incredible WWIII movies as you'll hear in our conversation, and if you haven't seen them I highly recommend you check them out. We also touch briefly on one of my all-time favorite movies Dr Strangelove.
So if you enjoy movies about the cold war, or history and pop culture from the 40s through the 90s, I hope you find this episode entertaining and educational.
--- Send in a voice message: https://podcasters.spotify.com/pod/show/andrewhall/message
Episode comments
1 Rating
eg., What part of this podcast did you like? Ask a question to the host or other listeners...
Jamie Ray
@favefivefromfans
Jul 13
1 Like
Generate a badge
Get a badge for your website that links back to this
Select type & size