Dead Ass Tho!
Tarel Naim Austin
This is the greatest show on earth! Tarel Naim Austin, the reallionaire is the future and the voice of the next few generations! He's the Black Larry King! He's Howard Stern that sneaks whole Cheesesteaks in the movie theater. You mix Jimmy Fallon & Kimmel with Arsenio on top, sprinkle some Martin Payne inside, what the hell do you got? You have one bad mofo! On The "Dead Ass Tho" podcast, you just never know what will come out his mouth. He has complex and unorthodox FEEL-osophy's that make you say "Wow. That makes sense. I just never thought of it like that!" This show's focus is to entertain, inform, and persuade. The show's premise is to pay homage to legendary people, places, and things, as well as promote small local businesses, and to shed light on important issues and topics in the community, ranging from interracial-dating to children with disabilities to you name it! On this very show, the longest Black mayor in history was interviewed with his greatest interview ever. On this show, a school teacher will be the special guest one week, and an "exotic" dancer could be the guest the next week. This show is the perfect balance of EDU-tainment! Every episode will leave you laughing, learning, and yearning for more. And if you love Tarel's podcast, make sure you check out his book "LIT-erature!" on Amazon! It's a masterpiece! Just as this show! Enjoy and follow him on Twitter @NaimThyDream!
Top 10 Dead Ass Tho! Episodes
Best episodes ranked by Goodpods Users most listened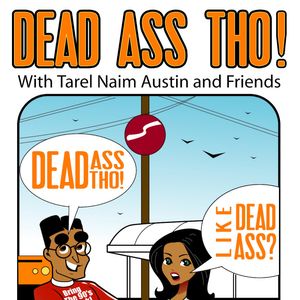 11/14/17 • 123 min
"REAL FRIENDS" #DeadAss this may have been the most LITTY-est episode yet! ...Every friend aint your friend! And on this episode, I'm here to let you know what a REAL friend is! I had my boy Neek and the Platinum Girls (a group of beautiful young friends all from the NJ and PA area) on my show to help me talk about FRIENDSHIP! They're the TRILLEST group of friends ever! They were fucking hilarious and so real! Some of the things we discussed was: 1.) Taking shits in public places... 2.) If your friend killed/raped someone, do you support them? 3.) Your friends fucking your siblings/boo behind your back? 4.) Friends owing you money... 5.) The pettiest reason you ever cut a friend off... 6.) Do you support your friends if their business/skills are trash? 7.) Friends sharing clothes, dick, etc... 8.) Do you support your friends cheating... 9.) Cougars and Sugar Daddy's 10.) How I was born on the toilet... And much more! You definitely DONT want to miss my game of "HOW WELL DO YOU KNOW YOUR FRIEND?" That shit was hilarious! That was MUST-SEE TV! My podcast needs to be on TV !!️ But until then, click the link in my bio and enjoy this EPIC episode! Listen, share, retweet! All that! Thanks!
Show more
How many episodes does Dead Ass Tho! have?
Dead Ass Tho! currently has 1 episodes available.
What topics does Dead Ass Tho! cover?
The podcast is about Society & Culture and Podcasts.
What is the most popular episode on Dead Ass Tho!?

The episode title '"REAL Friends!"' is the most popular.

What is the average episode length on Dead Ass Tho!?

The average episode length on Dead Ass Tho! is 124 minutes.

When was the first episode of Dead Ass Tho!?

The first episode of Dead Ass Tho! was released on Nov 14, 2017.

Show more FAQ
Comments
Rating
Review or comment on this podcast...
External Reviews
Imported reviews from Apple Podcasts.
Generate a badge
Get a badge for your website that links back to this
Select type & size