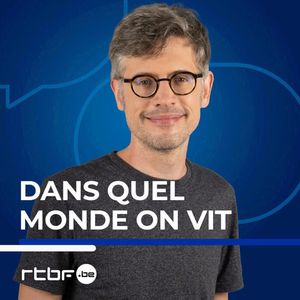 Dans quel Monde on vit
RTBF
En compagnie de ses invités, Pascal Claude prend le temps de vous raconter autrement le monde en mouvement et nos vies mouvementées. Il reçoit des écrivains, cinéastes, musiciens, philosophes, journalistes, essayistes, .... Et pour cette neuvième saison de " Dans quel Monde on vit ", la journaliste Juliette Goudot rejoint la bande des auteur.e.s d' " En toutes lettres ! ". Tout comme l'écrivain et historien Gil Bartholeyns, la journaliste et écrivaine Pascale Clark, l'écrivaine et membre du groupe Catastrophe Blandine Rinkel, elle viendra vous proposer régulièrement des lettres adressées aux personnes - ou choses - de son choix : qu'elles occupent le devant de l'actualité ou qu'elles méritent de ne plus être ignorées.
Top 10 Dans quel Monde on vit Episodes
Best episodes ranked by Goodpods Users most listened
Show more
How many episodes does Dans quel Monde on vit have?
Dans quel Monde on vit currently has 203 episodes available.
What topics does Dans quel Monde on vit cover?
The podcast is about Society & Culture, Podcasts and Philosophy.
What is the most popular episode on Dans quel Monde on vit?

The episode title 'Dans quel Monde on vit - Histoires de visions avec Costa-Gavras et Laurent Mauvigner - 05/09/2020' is the most popular.

What is the average episode length on Dans quel Monde on vit?

The average episode length on Dans quel Monde on vit is 32 minutes.

How often are episodes of Dans quel Monde on vit released?

Episodes of Dans quel Monde on vit are typically released every 6 days, 22 hours.

When was the first episode of Dans quel Monde on vit?

The first episode of Dans quel Monde on vit was released on Aug 6, 2020.

Show more FAQ
Comments
Rating