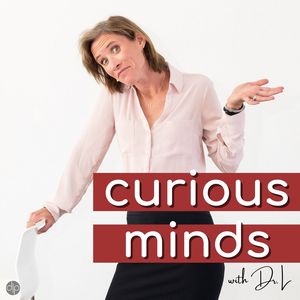 Curious Minds with Dr. L
Dr. Lara Pence
Welcome to Curious Minds with Dr. L, a podcast where we use curiosity as the cure for stagnation in our lives. As a psychologist, I've worked with individuals, couples, and families for over fifteen years, helping them peel back the layers of what keeps them standing still and gently nudging them to move towards their goals. After countless sessions, I have learned one thing I know to be true: When we get curious, we change. And through this podcast, you will see that when we allow the answers to our curious questions bubble to the surface, we will find the path we are meant to be on. So if you feel stuck, lost, unhappy, confused about what you want next, or like you just want to quit–and let's be honest–that's all of us, this podcast will give you a window into how best to use curiosity to find your way and the insight you seek to find the path you're meant to follow.
Top 10 Curious Minds with Dr. L Episodes
Best episodes ranked by Goodpods Users most listened
Show more
How many episodes does Curious Minds with Dr. L have?
Curious Minds with Dr. L currently has 69 episodes available.
What topics does Curious Minds with Dr. L cover?
The podcast is about Health & Fitness, Mental Health, Mental, Podcasts, Self-Improvement, Education, Health and Self.
What is the most popular episode on Curious Minds with Dr. L?

The episode title 'Anders Varner | Using Fitness to Find and Fuel Passion' is the most popular.

What is the average episode length on Curious Minds with Dr. L?

The average episode length on Curious Minds with Dr. L is 39 minutes.

How often are episodes of Curious Minds with Dr. L released?

Episodes of Curious Minds with Dr. L are typically released every 5 days.

When was the first episode of Curious Minds with Dr. L?

The first episode of Curious Minds with Dr. L was released on Aug 6, 2020.

Show more FAQ
Comments
Rating