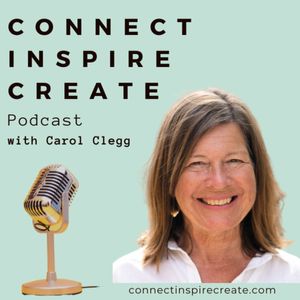 Connect Inspire Create
Carol Clegg

1 Creator
5.0
(51)

1 Creator
I am your host, Carol Clegg, your "Accountability Biz Coach" helping midlife women with an effective accountability structure to help you take action on your intentions. Inspiring conversations covering topics that include a variety of entrepreneurial journeys, life skills, mindset motivation, and marketing resources. Connect....Inspire....CreateI encourage you to go out and...❇️Connect with people in your own authentic way, feel empowered by being you!❇️Inspire others - there are so many small ways to do that and it spreads happiness!❇️Create relationships, collaborations & opportunities that help build your community!

1 Listener
5.0
(51)
Top 10 Connect Inspire Create Episodes
Best episodes ranked by Goodpods Users most listened
Show more
How many episodes does Connect Inspire Create have?
Connect Inspire Create currently has 129 episodes available.
What topics does Connect Inspire Create cover?
The podcast is about Yoga, Health & Fitness, Accountability, Marketing, Entrepreneurship, Life Coach, Podcasts, Business, Coaching and Coach.
What is the most popular episode on Connect Inspire Create?

The episode title '#32 Pause and Patience Mindful Bits and Bites' is the most popular.

What is the average episode length on Connect Inspire Create?

The average episode length on Connect Inspire Create is 20 minutes.

How often are episodes of Connect Inspire Create released?

Episodes of Connect Inspire Create are typically released every 7 days.

When was the first episode of Connect Inspire Create?

The first episode of Connect Inspire Create was released on Oct 2, 2020.

Show more FAQ
Comments
51 Ratings