Bahwasannya untuk berbincang dan berdiskusi tidak harus tergabung dalam circle yang sama. Circle hadir agar semua tahu cerita dari orang-orang yang tidak sempat satu lingkup dengannya. Podcast ini adalah salah satu konten dari divisi studio Laboratorium TV, Film, dan Animasi Jurusan Ilmu Komunikasi, Universitas Andalas. Here we are, this is our circle!
Top 10 CIRCLE Episodes
Best episodes ranked by Goodpods Users most listened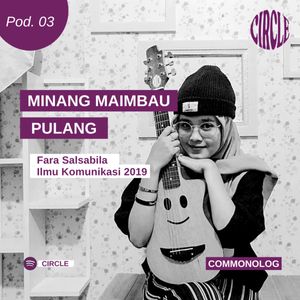 05/22/20 • 6 min
Capek bana rasonyo hari baganti, nan rindu ndak taubek lai. Antah baa caro malapehnyo. Basobok Mandeh jo sanak sudaro, harus dirilakan pulo. Manguaikan diri, batahan jo kondisi sarupo kini. Hujan ditantang, paneh dihadang, rindu tahalang, jo pandemi nan alun juo kunjuang hilang. Lakehlah sihat, bumi tacinto. Bia taubek raso rinduko.
--
Hari berganti begitu cepat, namun rindu belum terobati. Entah bagaimana melepaskannya. Bertemu dengan ibu dan sanak saudara, harus direlakan. Hujan ditantang, panas dihadang, tapi rindu terhalang. Karena pandemi yang belum kunjung hilang. Cepat sehat bumi tercinta, biar terobati rindu ini.
VO: @parrasalsabila
Instrument: Alunan Bansi Minang yang Menyayat - ranah ID (Youtube)
Link: https://www.youtube.com/watch?v=Eyvt69-P9iM&t=88s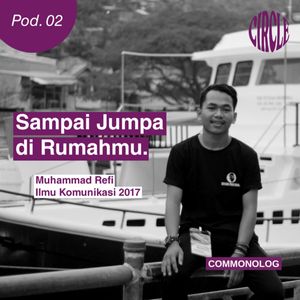 04/20/20 • 3 min
Selain keterampilan berbicara, keterampilan menulis juga tak kalah penting. Ada beberapa orang yang mungkin belum bisa mengungkapkan sesuatu secara lisan, tetapi ahli membuatnya nampak apik dalam sebuah tulisan. Kali ini, @nazlyatiffany membawa kita masuk lebih dalam untuk dapat melihat dengan telinga dan mendengar melalui hati sebuah karya dari Muhammad Refi, Ilmu Komunikasi 2017. So, put your earphone for the best quality! Enjoy!
Ongky dikenal sebagai peraih Mahasiswa berprestasi di tahun pertamanya berkuliah di Ilmu Komunikasi Unand. Tapi, selain menjadi mahasiswa berprestasi dalam bidang akademik, ongky juga memiliki segudang experiences lainnya seperti di dunia Film, Musik, dan lainnya- Di episode pertama Commpiration ini, aku @nazlyatiffany bakalan kepoin gimana proses Ongky untuk mencapai semua prestasi yang dia punya. Kok bisa sampe ke Korea? Yuk dengerin!
Show more
How many episodes does CIRCLE have?
CIRCLE currently has 3 episodes available.
What topics does CIRCLE cover?
The podcast is about Podcasts, Self-Improvement and Education.
What is the most popular episode on CIRCLE?

The episode title 'Pod. 03 Minang Maimbau Pulang - COMMONOLOG' is the most popular.

What is the average episode length on CIRCLE?

The average episode length on CIRCLE is 15 minutes.

How often are episodes of CIRCLE released?

Episodes of CIRCLE are typically released every 37 days, 5 hours.

When was the first episode of CIRCLE?

The first episode of CIRCLE was released on Mar 13, 2020.

Show more FAQ
Comments
Rating
Review or comment on this podcast...
External Reviews
Imported reviews from Apple Podcasts.
Generate a badge
Get a badge for your website that links back to this
Select type & size