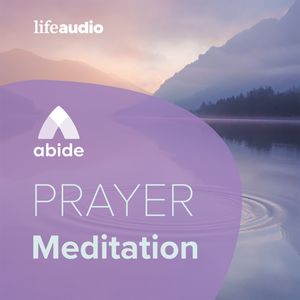 Christian Prayer Meditations
Christian Prayer Meditations
Find peace with Christian healing prayer meditations by Abide for issues like anxiety, addiction, depression, and illness.
⭐Abide is the #1 Bible app to stress less & sleep better. Join the millions of people who download the 4.9 star reviewed Abide app to reduce stress, improve sleep and experience the peace of God everyday.
⬇️Get the Abide app FREE:
https://abide.com
According to meditation research...
84% of Christians who meditate at least weekly have the strongest faith in God
81% of Christians who meditate at least weekly experience God's peace the most
Mindfulness meditations like Abide Christian meditations can measurably:
▶ Improve the quality and length of your life
▶ Reduce stress, blood pressure, pain, anxiety, depression, PTSD, addictive impulses & cravings
▶ Grow brain density in regions responsible for memory, compassion, self-awareness and introspection
Top 10 Christian Prayer Meditations Episodes
Best episodes ranked by Goodpods Users most listened
Show more
How many episodes does Christian Prayer Meditations have?
Christian Prayer Meditations currently has 60 episodes available.
What topics does Christian Prayer Meditations cover?
The podcast is about Christianity, Religion & Spirituality, Podcasts and Religion.
What is the most popular episode on Christian Prayer Meditations?

The episode title 'Healing From Injustice' is the most popular.

What is the average episode length on Christian Prayer Meditations?

The average episode length on Christian Prayer Meditations is 10 minutes.

How often are episodes of Christian Prayer Meditations released?

Episodes of Christian Prayer Meditations are typically released every 7 days.

When was the first episode of Christian Prayer Meditations?

The first episode of Christian Prayer Meditations was released on Dec 22, 2019.

Show more FAQ
Comments
Rating