Back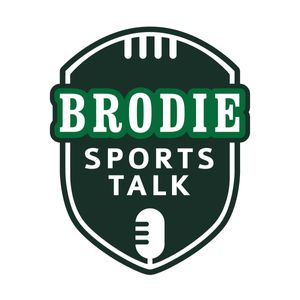 Week 2 NFL Power Rankings, Federer Retires, Trey Lance injured, and Week 3 NFL Brodie Bets.
Brodie Sports Talk
5.0
(2)
Caleb (@kdiggs74) and Derek (@derekrusinek) are here to look back through week 2 of the 2022 NFL season through a few different lenses. They start with this day in sports history with Steve O'Neal having an epic punt. Then the boys look at some of the latest news like Roger Federer retiring and the home run chases of Aaron Judge & Albert Pujols. Afterwards it's time to see our overreactions and under the radar takes from week 2 of the NFL Season. Then it's over to the NFL as they release the Week 2 Power Rankings. This episode features highlights on the Carolina Panthers, Jacksonville Jaguars, Miami Dolphins, and San Francisco 49ers. Finally, they make their Brodie bets for their teams including the fan vote that you gave us on Twitter, between the Buffalo Bills at the Miami Dolphins.
Theme music by The Riley Brothers Band. Find them at therileybrothersband.bandcamp.com.
--- Send in a voice message: https://podcasters.spotify.com/pod/show/brodie-sports/message
09/21/22 • 89 min

2 Listeners
5.0
(2)
Episode Comments
2 Ratings
eg., What part of this podcast did you like? Ask a question to the host or other listeners...
Matt Sturdevant
@MattyxSturdz
Oct 11
Like
Oct 12
Like
Generate a badge
Get a badge for your website that links back to this
Select type & size