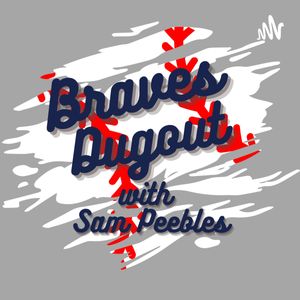 Braves Dugout
Sam Peebles

1 Creator
5.0
(333)

1 Creator
This podcast is about all things Braves baseball. We talk about position battles, roster moves, potential trades, game recaps, and our personal favorite, "Peebles Pitch". In this segment we talk about controversial topics using only stats and logic where no bias is attached, such as which Braves players should or should not be in the hall of fame. Support this podcast:
https://anchor.fm/sam-peebles/support



36 Listeners
5.0
(333)
3 Comments
Top 10 Braves Dugout Episodes
Best episodes ranked by Goodpods Users most listened
Show more
How many episodes does Braves Dugout have?
Braves Dugout currently has 116 episodes available.
What topics does Braves Dugout cover?
The podcast is about Baseball, Podcasts and Sports.
What is the most popular episode on Braves Dugout?

The episode title 'Trade Deadline review, what to like, red flags, and more' is the most popular.

What is the average episode length on Braves Dugout?

The average episode length on Braves Dugout is 36 minutes.

How often are episodes of Braves Dugout released?

Episodes of Braves Dugout are typically released every 7 days.

When was the first episode of Braves Dugout?

The first episode of Braves Dugout was released on Mar 18, 2020.

Show more FAQ
Comments
333 Ratings
Michael Maione
@microbreak
Mar 24
A super nice guy, that really knows his team. I am not a baseball fan, but I still enjoy hearing his shell from time to time. Great job.
1 Like
Jun 10
Like
Jun 16
Like