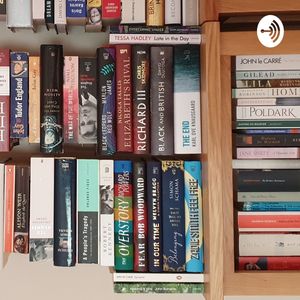 A podcast all about books and literature. Email suggestions to mrhealy1989@gmail.com
Top 10 Book Pod Episodes
Best episodes ranked by Goodpods Users most listened
05/17/20 • 19 min
Wolf Hall by Hilary Mantel (2009) is the great novel of the 21st Century so far (and the trilogy just gets better and better). It follows the rise of Thomas Cromwell from blacksmith's boy to Henry VIII's right hand man in the cutthroat world of Tudor Britain. Welcome to Book Pod a weekly podcast about literature by an English teacher. Email book suggestions to bookpod454@gmail.com
05/17/20 • 19 min
05/17/20 • 0 min
05/17/20 • 0 min
09/18/22 • 8 min
Klara and the sun by Kazuo Ishiguro is that rare thing: an accessible best seller with limitless philosophical depth. Our protagonist (a characteristic Ishiguro unreliable narrator) is a made as companion for children and longs to be near the sun at the start of the novel. The most artifical thing longing for the most natural. This begins as ostensibly a novel about a robot/AI who longs to be human.
09/18/22 • 8 min
Show more
How many episodes does Book Pod have?
Book Pod currently has 3 episodes available.
What topics does Book Pod cover?
The podcast is about Podcasts, Books and Arts.
What is the most popular episode on Book Pod?

The episode title 'Wolf Hall' is the most popular.

What is the average episode length on Book Pod?

The average episode length on Book Pod is 9 minutes.

How often are episodes of Book Pod released?

Episodes of Book Pod are typically released every 853 days, 22 hours.

When was the first episode of Book Pod?

The first episode of Book Pod was released on May 17, 2020.

Show more FAQ
Comments
Rating