Bodo Amat! Podcast
bodoamat.podcast
Ocehan yang di angkat dari sebuah keresahan!
Top 10 Bodo Amat! Podcast Episodes
Best episodes ranked by Goodpods Users most listened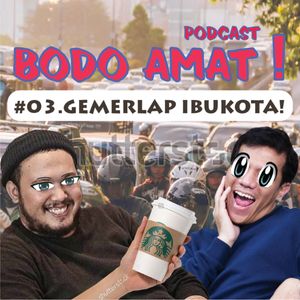 03/03/20 • 54 min
Jakarta punya segala cerita. Dari banjir yang bisa have fun kayak waterpark sampe mabu mabu muntahin ayam geprek dipinggir jalan depan ms jackson.
Jakarta penuh sama anak rantau mencoba peruntungan di ibukota, mendongak melihat anak gahul jakarta yang bar hopping sambil pake baju hypebeast namun sayang muka kurang estetis.
Yukk dengerin cerita jakarta kita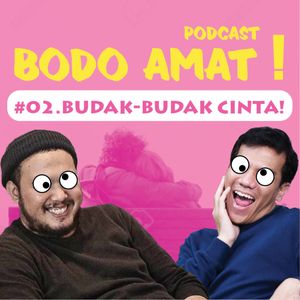 02/14/20 • 35 min
Ketika tangan sudah tidak kuat berjabat teman lama. Ketika kaki sudah berat tuk melangkah ke depan. Ketika pikiran sudah mulai meracau. Ijinkan aku meneriakkan "Ahhh elahh BUCIINN LUU".
Kita semua pernah mengalami jadi budak cinta. Terbutakan oleh visi cinta masa depan menyebabkan kehilangan arah dan manut manut aja. Memberikan effort lebih tanpa harap kembali. Bukan karena surya menyinari alamnya, tapi senyum manis nya yang bikin candu.
Jangan Lupa Follow kita di Spotify dan Instagram yah !
Instagram : @bodoamat.podcast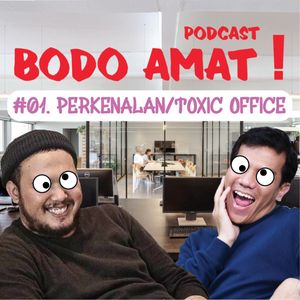 01/29/20 • 45 min
Dinamika lika liku kehidupan para pegawai kantoran mengambil peran di mata bos sampai terheran heran.
Kenali akting pegawai kantoran ini yang bikin kantor lo berubah jadi toxic!!
Follow Instagram kita @bodoamat.podcast
Cheers!!
Show more
How many episodes does Bodo Amat! Podcast have?
Bodo Amat! Podcast currently has 3 episodes available.
What topics does Bodo Amat! Podcast cover?
The podcast is about Comedy and Podcasts.
What is the most popular episode on Bodo Amat! Podcast?

The episode title 'Eps. 03 Gemerlap Ibukota!' is the most popular.

What is the average episode length on Bodo Amat! Podcast?

The average episode length on Bodo Amat! Podcast is 45 minutes.

How often are episodes of Bodo Amat! Podcast released?

Episodes of Bodo Amat! Podcast are typically released every 18 days, 5 hours.

When was the first episode of Bodo Amat! Podcast?

The first episode of Bodo Amat! Podcast was released on Jan 29, 2020.

Show more FAQ
Comments
Rating
Review or comment on this podcast...
External Reviews
Imported reviews from Apple Podcasts.
Generate a badge
Get a badge for your website that links back to this
Select type & size